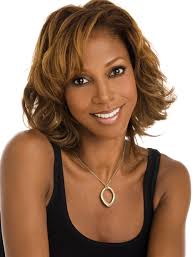 Actress and author Holly Robinson Peete will join more than 10,000 women, including Lowe's Heroes from across the country, to volunteer at Habitat for Humanity construction sites in recognition of National Women Build Week, May 4-12. Now in its sixth year, National Women Build Week challenges women to devote at least one day to help build affordable housing in their local communities.
Peete, a mother of four, is the national spokesperson for National Women Build Week 2013 and a longtime supporter of Habitat for Humanity. She will join volunteers to help rehabilitate a Habitat home in Los Angeles.
"I am delighted to support National Women Build Week and want to encourage women to get involved with Habitat this week," said Peete. "Having a home provides such a strong foundation for families, and this week provides great opportunities for women to come together, learn new skills and help families in need of affordable housing."
National Women Build Week is a nationwide initiative of Habitat's Women Build program developed in partnership with Lowe's. Lowe's donated $1.75 million to support this year's National Women Build Week and will provide $5,000 gift cards to 300 participating Habitat affiliates.
"Lowe's has underwritten Habitat's Women Build"‹"‹"‹"‹ program since 2004, and we are proud to continue to bring together women from all walks of life to raise walls alongside local families in need," said Marshall Croom, chairman of the Lowe's Charitable and Educational Foundation. "We thank our Lowe's Heroes and the thousands of volunteers who will help strengthen communities throughout the country this week."
The U.S. Census Bureau reports more than 16 million children are living in poverty in the United States. Nearly 48 percent of the children reside with women heads-of-household. Since Habitat's Women Build Program was created in 1998, more than 2,100 Habitat for Humanity Women Build houses have been constructed in partnership with low-income families.
"National Women Build Week demonstrates some of the greatest strengths of Habitat for Humanity""bringing people together, urging individuals out of their comfort zones and inspiring others," said Jonathan Reckford, CEO of Habitat for Humanity International. "We are so grateful to Lowe's and to women all across the U.S. who are reaching out a helping hand to help families build the foundation for a better future."
National Women Build Week is one of the major initiatives supported through Lowe's five-year, $20 million pledge to Habitat. Lowe's conducts how-to clinics at stores to teach women construction skills and provides the support of Lowe's Heroes employee volunteers to build homes with partner families across the country.
Nearly 41,000 women from all 50 states have volunteered at the five previous events. For more information on Habitat for Humanity's Women Build program, and to learn about Women Build projects in communities across the U.S., visit Habitat.org/wb or the National Women Build Week tab on https://www.facebook.com/habitat.