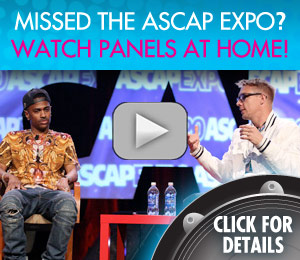 This year's ASCAP "I Create Music" EXPO was a remarkable experience for everyone involved. The panels and speakers were inspiring, entertaining and loaded with valuable information. We wish every single music creator could join us for the EXPO, and take advantage of its unique experience.
If you couldn't be in LA with us, we are again offering you the ability to watch the EXPO at home! All of the EXPO panels* – over 40 panels, which is nearly 60 hours of content – are available to stream online. By purchasing EXPO Video Access, you will get to view the panels at your leisure from any computer. The videos will be viewable until the end of 2013. Please note that the Katy Perry session will not be available.
Learn from the biggest names in music; great advice, tools, wisdom and keys to success are found throughout all of these excellent videos. Every genre and topic in music is covered at the EXPO. The EXPO Videos are a great investment in the advancement of your career in music. We know you'll be joining us next year along with the over 2,000 music creators, but in the meantime watch the 2013 EXPO content.