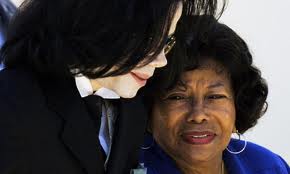 Michael Jackson's ex-wife Debbie Rowe has been called to testify in court on behalf of the Jackson family  and AEG during the family's wrongful death trial against UK music promoter AEG Live. AEG maybe questioning  the paternity of MJ's two eldest children, Prince and Paris.
"Lawyers worry Debbie will testify Michael is not the biological father of Prince and Paris," said TMZ.
"Debbie is on the witness list for both Katherine and AEG Live," TMZ reported. "AEG has taken Debbie's deposition but – shockingly – AEG never asked Debbie a single question about paternity as it relates to MJ."
Katherine Jackson's lawyers have apparently filed legal documents asking the judge to exclude any evidence of paternity. The judge has not ruled on the motion thus far. The Jackson's need not worry because California law states that when a woman gives birth while living with her husband, the husband is conclusively presumed to be the father unless he's sterile or impotent.
It's safe to say that the Jackson's are probably under a lot of pressure being that this suit is worth a ridiculous amount of money…let's say $40 Billion!