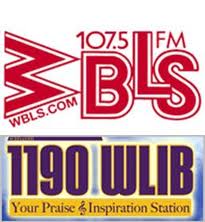 This Thursday, April 4thth and Friday, April 5th, from 6am-7pm, 1190 WLIB partners with St. Jude's Children's Research hospital for the "Radio Cares for St. Jude Kids" radio-thon. This is our 4th year conducting this two-day radio-thon, which is designed to raise awareness and support for St. Jude's. Throughout the day, WLIB will highlight St. Jude patient stories, take donations, and enlists listeners to help save a life by donating. Donations can be made bycalling (800) 411.9898 or by logging on to WLIB.com and clicking on the St. Jude's link.
1190 WLIB Assistant Program Director Cynthia Smith says; "This will be our 4th year partnering with St. Jude. We have raised over 370,000k that has gone towards continued research to help save children's lives. Radio-thons like this are needed and it is rewarding for the station to be apart of this each year."
Radio Cares for St. Jude Kids ® is one of the most successful radio fundraising events in America. St. Jude Children's Research Hospital has been actively involved in radio-thon fundraising for more than 30 years raising more than $365 million.
Log onto WLIB.com for more information or to donate towards this worthy cause.