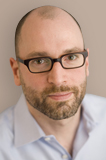 Universal Music Group (UMG), the world's leading music company, announced today the appointment of Will Tanous as executive vice president and head of global communications, effective April 15, 2013. In this newly created position, Tanous will be responsible for managing the company's worldwide internal and external communications and social responsibility. He will also supervise the interaction and coordination of the communications functions of UMG's operating companies in more than 60 countries, and play an integral role in shaping and communicating the company's business strategy. Tanous will report to UMG Chairman & Chief Executive Officer Lucian Grainge and will be based at the company's headquarters in Santa Monica, California.
In making the announcement, Grainge said, "Will is widely recognized for having been a trusted strategic advisor to many CEOs in the media industry. He has a deep understanding of the opportunities and challenges related to the intersection of entertainment and technology, and as such, joins UMG at an important time in the evolution of our company. I'm looking forward to working closely with Will as we continue to lead the industry's transformation and strengthen UMG's standing as the most dynamic and innovative home for the world's greatest recording artists and songwriters."
"I'd also like to thank Peter LoFrumento for his years of dedicated service to UMG," said Grainge.
The company wishes him all the best as he moves on to another opportunity.
Tanous joins UMG from Warner Music Group where he most recently served as Executive Vice President of Communications & Marketing. Since joining WMG in 1993, Tanous has served in a variety of positions responsible for that company's communications, investor relations, corporate marketing and branding, social responsibility and event efforts. He holds a Bachelor of Arts degree from Georgetown University in Washington D.C.