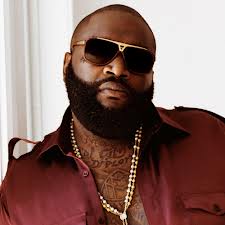 With Radio stations pulling his music and online petitions popping up everywhere, Rick Ross finally addressed is his controversial "date rape" lyrics on the song  "UOENO"  (You Ain't Even Know It). On the song he basically made reference to drugging a woman and then taking her home unknowingly. Rick Ross addressed his lyrics today during a radio interview with Q 93.3 in New Orleans.
The lyrics, which read: "Put molly all in her champagne, she ain't even know it / I took her home and I enjoyed that, she ain't even know it," have gone viral and many people are up in arms about it, including Jeff Johnson, w who wrote an open letter to Ross and men in general.
On Q 93.3, Ross started by saying: "I wanna make sure this is clear, that woman is the most precious gift known to man." He also called the situation a "misunderstanding." He went on to say, "The term rape wasn't used…You know, I would never use the term rape." The MMG artist and leader also said, "I just wanted to reach out to all the queens that's on my timeline, all the sexy ladies, the beautiful ladies that had been reachin' out to me with the misunderstanding," Rick Ross said in the same breath. "We don't condone rape, and I'm not with that."
He actually never apologized and for the record, if you unknowingly slip a woman a drug, then take her home and take advantage of her while under the influence of that drug, isn't that still rape whether you say the term "rape" or not? Come on Son! Rick Ross you have to do better.