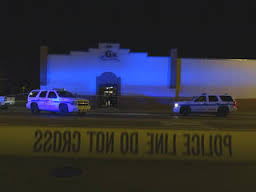 The Chicago violence is out of control. What is really going on?  That is somewhat of a rhetorical question but really we need to find some resolutions to the senseless violence going on there and everywhere else around the nation. Seven people were shot in the early morning hours of Thursday when gunfire erupted inside a South Side nightclub during a rap video release party.
Police said three people pulled out handguns and started firing shots both inside and outside Mr. G's Supper Club and Entertainment Center at 87th and Ashland about 1:13 a.m. Being that I grew up in Chicago and I'm familiar with Mr. G's Supper Club, I'm pretty sure they used to have security search everyone before you enter but maybe they stopped that procedure. They are speculating the the shooting was indeed gang-related, said police News Affairs Officer Hector Alfaro. A promotional poster indicated rap artists Nino, King Samson and Lil Mouse performed at the event.
Three individuals, a 19-year-old woman, a 21-year-old man and a 23-year-old man"" were driven to Advocate Christ Medical Center in Oak Lawn with gunshot wounds, Alfaro said. The 19-year-old woman was shot seven times, according to dispatch reports. All three were listed in "stable" condition. Another two men, ages 20 and 21, were in "stable" condition after one man was taken by ambulance and another was driven to Holy Cross Hospital, police said. Also, two men, ages 26 and 36, were also in "stable" condition after being driven to Little Company of Mary Hospital and Health Care Center, Alfaro said.
This sort of violence and violence associated with music is getting way out of hand. What do we need to do to change it?