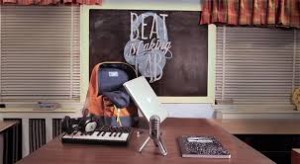 PBS Digital Studios' new series "Beat Making Lab" follows two music professionals and educators as they travel to international destinations, providing underserved communities with the training and tools to create their own original hip hop music and electronic music.
This newest episode features the debut of "Cho Cho Cho," the song and music video produced by Stephen and Pierce during their visit to Yole!Africa, a small non-profit community center in Goma, a city in the Democratic Republic of Congo. During their time in Goma, Stephen and Pierce established a recording studio, and worked with local music students as well as acclaimed Congolese artist Flamme Kapaya. This video showcases the results of those efforts "" an intense mix of beat-making, breakdancing, rap and singing in multiple languages "" that shows an inspiring passion for music and performance.
The series features music producer Stephen Levitin (also known as Apple Juice Kid), who co-teaches a beat making lab at University of North Carolina at Chapel Hill with Professor Pierce Freelon, who is also frontman for Durham's jazz/hip-hop quartet The Beast. Together, they explore the connections between music, culture and community, and demonstrate music's ability to serve as a universal language. New episodes of "Beat Making Lab" are posted weekly.