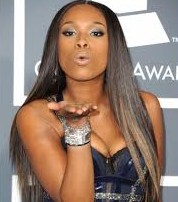 Washington's Most Interesting Mix of Music and Politics Will Take Place at the Hamilton with Proceeds Benefiting the GRAMMY Foundation
Advocacy Day for Music Makers Will Take Place on Capitol Hill April 18
The Recording Academy  "" the organization internationally known for the GRAMMY Awards"" will present its 2013 GRAMMYs on the Hill ® Awards in Washington, D.C., on Wednesday, April 17 at the Hamilton . Known as "Washington's most interesting mix of music and politics," the event will honor GRAMMY ® and Academy Award ® winner Jennifer Hudson for her artistic achievements and generosity as a philanthropist.
"We are elated to recognize Jennifer Hudson as not only a gifted musician and actress but as an extraordinary humanitarian who has selflessly contributed her time and talent to numerous worthwhile causes," said Recording Academy President/CEO Neil Portnow. "She is one of the industry's most enduring, giving and gifted women, and we are privileged to be honoring her artistry, her commitment, and her generosity."
GRAMMYs on the Hill Awards: April 17
The GRAMMYs on the Hill Awards will take place on April 17 at the Hamilton with special guest presenters and performers, and will recognize Hudson with The Academy's Recording Artists' Coalition Award (named for The Academy's artists' rights program founded by Don Henley and Sheryl Crow). The event will include a cocktail reception and dinner preceding the awards ceremony, and will also thank key legislators who help improve the environment for music makers. Proceeds will benefit the GRAMMY Foundation ®'s Signature Schools, which provides support for underserved music programs throughout the country, and a GRAMMY Foundation Signature School that has demonstrated excellence in music education will receive a grant to support its music initiatives. The evening is sponsored by SESAC.
GRAMMYs on the Hill Advocacy Day: April 18
The day after the Awards ceremony, The Recording Academy will host GRAMMYs on the Hill Advocacy Day, where hundreds of music professionals from across the country will visit with legislators to advance pro-music policies that improve the environment for music and its makers. Now in its eighth year, it is the music community's only annual advocacy day in Washington, and features a morning briefing with keynote speeches by leading legislators and lobbying members of Congress on Capitol Hill.