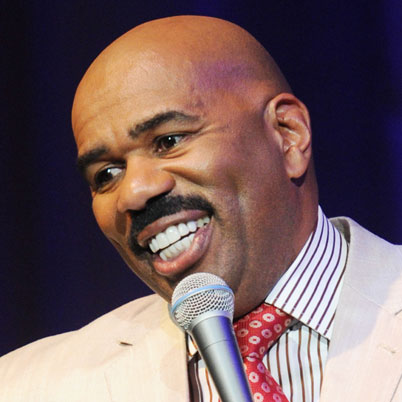 "STEVE HARVEY" SOARS AS THE #1 NEW SYNDICATED DAYTIME SHOW AMONG WOMEN 25-54 IN 2013
"Steve Harvey" is the only new syndicated show to grow double-digits vs. lead-in and year-ago time periods–
Female viewers flocked to "Steve Harvey" in February for his common sense advice on love and relationships, making it the #1 new syndicated daytime show for the month and year-to-date among the all-important daytime demographic of Women 25-54 based on Nielsen's national ratings.
Overall, the hit daytime series shined during the February Sweep, notching a 1.6 household rating , 1.0 W25-54 rating, and over 2.2 million viewers on average per episode. "Steve Harvey" also delivered for local stations by being the only new syndicated show to grow versus both its lead-in and year-ago time periods, improving its lead-in by 22% in households and a whopping 42% in Women 25-54 and growing its time period ratings by 42% in households and 43% in Women 25-54 vs. February 2012 among primary telecasts. In addition, the series continues to grow, building its audience in February by 33% in households and 38% in Women 25-54 from its premiere week in September 2012.
"Steve Harvey," which has connected with millions with its blend of common sense advice and humor, is produced by Endemol USA with Steve Harvey, Alex Duda and Rushion McDonald serving as executive producers. The show, which has been renewed for a second season, is cleared in 98% of the country, including all of the NBC Owned Television Stations, and is distributed in national syndication by NBCUniversal Domestic Television Distribution. "Steve Harvey" is taped before a live studio audience at the state-of-the-art HD NBC 5 studios in downtown Chicago.