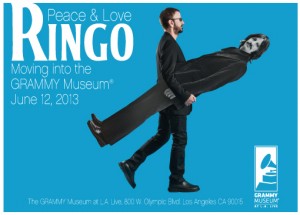 First Major Exhibition To Explore The Life Of Ringo Starr
Ringo: Peace & Love To Premier At The GRAMMY Museum ® June 12, 2013
and Tour Select Cities Through 2014
Exhibit Also Marks First Major Exhibit Dedicated To A Drummer
The GRAMMY Museum, in cooperation with Ringo Starr, will debut a major new exhibition, Ringo: Peace & Love opening on June 12, 2013. This one-of-a-kind, limited-run exhibit will offer visitors an unprecedented in-depth look at all aspects of Starr's musical and creative life "" as a musician, artist, actor, and as the man the world knows and loves simply as 'Ringo.' It will also aim to propel Starr's universal message of peace and love.
Ringo: Peace & Love is both the first major exhibit ever dedicated to a drummer and the first to explore the extraordinary career of the 7-time GRAMMY Award ® winner. The scope of exhibit spans Ringo's early life growing up in Liverpool, from Raving Texans turned Rory Storm, from The Beatles, to becoming a solo artist and then to the All Starrs with whom he is on tour now "" this unique collection brings together diverse artifacts, rare and never before seen photographs, documents, personal letters and footage.
Ringo: Peace & Love will be located on the second floor and will include:
The drum kit Ringo played at Shea Stadium
The drum kit he played on the Ed Sullivan show
Ringo's Sgt Pepper Suit
The cape he wore in Help!
The Red Jacket worn during the filming of The Beatles rooftop concert
Personal letters, photographs and documents from the Starkey family and Ringo's days with the Beatles
It will also be an interactive exhibit, where visitors can take a drum lesson with Ringo.
"I'm honored that Ringo has chosen to work with us to create Ringo: Peace & Love," said Bob Santelli, Executive Director of The GRAMMY Museum. "We are particularly excited to celebrate Starr's extraordinary musical legacy with the legions of fans who admire him, as well as to introduce him to a new generation of music lovers."
Ringo: Peace & Love will be on display in The GRAMMY Museum's Special Exhibits Gallery through November 2013, after which the exhibit will tour to select cities to be announced soon.