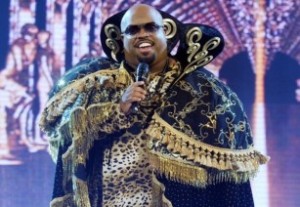 Recently welcomed to Las Vegas by riding down the famed Las Vegas Strip with a flaming piano surrounded by dancing showgirls, CeeLo Green proved he was ready to take on the "Bright Lights" of Las Vegas. Saturday night, the mega superstar held the grand opening for the highly-anticipated "CeeLo Green is LOBERACE," kicking-off his two-month residency at Planet Hollywood Resort & Casino.
"CeeLo Green is LOBERACE" is an electrifying, musical journey into the colorful world of CeeLo's brainchild, "LOBERACE." Visually, the production captures CeeLo's flamboyant sense of style and over-the-top creativity, paired with brilliant 3-D graphics and surprise appearances throughout the show. There's magic, 10 amazingly talented (and flexible) female dancers that are sure to make you blush, and a larger-than-life wardrobe and impressive stage design that out-glams and out-clevers anything you've seen from the international Lady Killer to date. One hit after another, CeeLo takes the stage with non-stop high energy to perform powerful covers of music that inspires him, from Rod Stewart to INXS, as well as hits of his own, including "Bright Lights," "Crazy" and "Forget You." The 90-minute show "" or dance-party "" is guaranteed to get you on your feet and is the perfect pre-party for a night out in Vegas.
In order to turn his dream of a Las Vegas residency into a reality, CeeLo assembled a top-notch creative team, including multi-award-winning producer Paul Morphos; world-renowned production/lighting designer Mark Brickman ; one of the most sought-after choreographers in the world, Fatima Robinson, who is also the creative director; production manager Geoff Perren ; and executive producer Larry Mestel, who is also the Founder and CEO of Primary Wave Music, CeeLo's management company. Apart from his role as executive producer, Mestel has overseen the entire project, keeping the creative team on task and schedule.