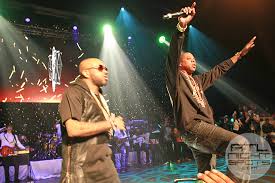 If you don't know then now you know that Saturday, February 23, 2013 will probably go down as one of the greatest concert experiences of all time as Jermaine Dupri presented the So So Def 20th anniversary concert, which featured the likes of Usher, Mariah Carey, Jagged Edge, Da Brat, Ludacris, a surprise performance from Jay-Z,and a whole lot more. The fans were treated to an array of hits from the So So Def catalogue and they were not disappointed. Last night's concert definitely showed and solidified JD's legacy as one of the greatest producers of all time, which leads me to the next question.
When it comes to producers and the greatest of all time conversation in the world of hip hop music, people always say Quincy Jones is the blueprint but you always hear Dr. Dre, J Dilla, who produced classic for Tribe Called Quest, Busta Rhymes, and several other hip hop music icons, and sometimes even DJ Premiere. Why is it with all his success, number one hits, and accolades that Jermaine Dupri doesn't get that same recognition? Chime in and let us know what you think.
Why you ponder that, enjoy this video of the highlights from last night's concert.