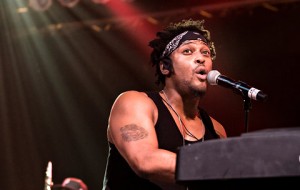 R&B/neo soul singer/songwriter, multi-instrumentalist and record producer D'Angelo (birth name: Michael Eugene Archer) is one year away from a major milestone birthday as he turns 39 years old today.
The artist's highly anticipated third release is scheduled for delivery to RCA Records this month. The album's producer, Questlove, drummer for The Roots who have been the house band for Late Night with Jimmy Fallon since the show's premiere in 2009, described D'Angelo's project: "99% of it is done." To Billboard, the producer/drummer elaborated on their extensive and meticulous polishing process: "He's the only person that I'll actually go to the studio with and stay there to six in the morning re-doing these drum parts. I won't even do that for my own band, but I'll do it for him. Right now, we're just tightening up the loose ends."
D'Angelo burst onto the scene in 1995 with his debut album on EMI Records called "Brown Sugar" which earned platinum certification from the Recording Industry Association of America. His follow up was five years later with the release of "Voodoo" on Virgin Records after the EMI Records Group was absorbed by his former label. "Voodoo" debuted at the #1 spot on the US Billboard 200 chart, and sold 320,000 copies in its first weekend. It went on to win two Grammy Awards, one for Best R&B Album, and the other for Best Male R&B Vocal Performance. It was the second single from the album, "Untitled (How Does It Feel)", which catapulted the artist to a new stratosphere, fueled in part by the provocative one shot accompanying music video.
Video: Untitled (How Does It Feel)
"He's one of those artists that have, of course, taken 13 years to follow up a record," continued Questlove. "It's going to take you about 10 years to digest this record. Totally brilliant." The pair began working on this album in 2004, yet Questlove describes the sound on the upcoming release as "a testament to the timelessness of it."
The reclusive artist made his first U.S. performance appearance in a decade at The Bonnaroo Music and Arts Festival in 2012.   D'Angelo's brother Luther describes him as a child prodigy, having observed him at the age of 3 playing the family piano: "It was not banging. It was a full-fledged song with melody and bass line. Shortly thereafter, he started playing for my father's church. My father had a Hammond organ, and he had to slide down to reach the pedals, but he did that very well."
In conclusion, said Questlove: "If this record is not turned in by February, then something is extremely wrong, because we worked to the bone in the entire month of January just to tighten up all the loose ends."