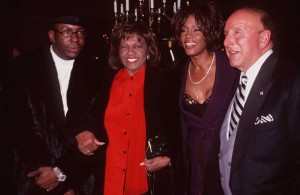 Grammy winning singer and author Cissy Houston has been very outspoken since the release of her memoirs "Remembering Whitney" last month. She has been openly critical of those close to her late daughter, including ex-husband Bobby Brown, and friend Robyn Crawford.
The latest to come under fire by Houston, 79, is Whitney's lifelong friend and mentor Clive Davis, 80.
Whitney was readying herself for Davis' annual Grammy party last year when she drowned in the hotel bathtub. Cissy received an invitation from Davis to this year's party, and described it as "obscene". "I don't know why they would want me to come to the party in which she died, you know? Unheard of," she said. "I guess maybe he just sent me a copy for remembrance sake."
Davis plans to pay tribute to Whitney at his Grammy gathering this year. Gary Garland Houston, Cissy's son, plans to attend.   Another son, Michael Houston, went on record recently to relate to Oprah Winfrey that it was he whom introduced his sister Whitney to drugs. For years, many blamed Whitney's ex-husband Brown.
Of Cissy's memoirs, Bobbi Kristina Brown, Cissy's granddaughter, has expressed dismay, and announced her boycott of the publication on Twitter @REALbkBrown describing the book as disrespectful.
Cissy has won two Grammys, one in 1996 and another in 1998. Davis has won four Grammy Awards as a producer. Brown is the recipient of three American Music Awards, and one Grammy.