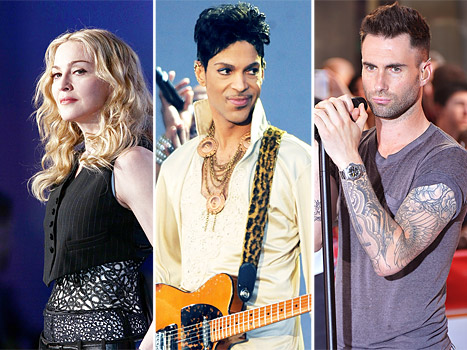 In anticipation of his upcoming bestowment of the 2013 Icon Award at the Billboard Music Awards Ceremony in Las Vegas on May 19th, singer/songwriter/musician/actor Prince graces the cover of this week's Billboard magazine. Prince has produced ten platinum albums and thirty top 40 singles during his career to date.
In this recent interview, Prince had some choice words about Madonna, whom he briefly dated in 1985. Both artists are 54 years old. Of the material girl, Prince described his tumultous past with Warner Bros. Records, claiming: "It was always about Madonna. She was getting paid, but at the same time we were selling more records and selling out concerts on multiple nights." Prince also quipped on stage in 2007 that he's "got more hits than Madonna's got kids."
Likewise, in 1994, Madonna has referred to Prince as "a little troll" who, during one of their earlier dates, was "just sipping tea, very daintily. I have this theory about people who don't eat." she said. "They annoy me."
Prince and Madonna collaborated on her track "Love Song" from her 1988 album "Like A Prayer".
Never one to mince words, Prince also had some pointed thoughts about pop/rock band Maroon 5's cover of "Kiss": "Why do we need to hear another cover of a song someone else did? Art is about building a new foundation, not just laying something on top of what's already there."
The award ceremony will air on the ABC Network.