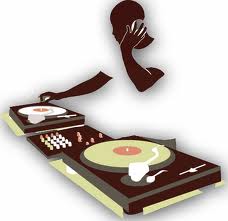 (Editor's Note: I can so clearly remember when I started in radio and was always the odd man out, I always hung with and befriended the mix Radio DJs at the stations because they were the odd man out too. Urban AND CHR programmers used to treat Mix Radio DJs like the stepchildren of the station. They were not skilled announcers so they were often ignored at the many stations that I worked at. While we would love to see a LOT more black djs headlining events and on the best paid list, we are thrilled to see they brilliantly  gave radio the middle finger and created an industry of their own… one which continues to thrive leaving radio Radio DJs and PDs in the DUST… Congrats to them)
Since there was a music industry, artists, writers, and publishers have been receiving royalties of some sort. Now its time for the DJ's to get in on some of that action. Dubset Media Holdings is literally about to change the game.
Dubset Media Holdings, a music industry leader in rights-flow and fingerprint technology, today announced the launch of the world's first formal DJ Royalty Program being offered by its internet radio site Thefuture.fm (www.thefuture.fm). Powered by the company's patent-pending MixSCANâ"¢ technology, Thefuture.fm provides one of the only platforms for DJs to share mixes with their fans under full rights compliance. Now, for the first time in history, DJs will begin earning multiple royalties themselves. Thefuture.fm is home to thousands of custom DJ radio stations having successfully fingerprinted over twelve thousand of the world's best mixes from notable artists, venues, and festivals. The company recently surpassed two and a half million mix-plays by listeners.
Dubset's MixSCANâ"¢ technology is what makes sharing those mixes legal. It parses mixes into thousands of individual audio files, comparing each against the world's largest music database, Gracenote. The resulting output is an industry first "Mix DNA" that not only identifies all underlying music but all rights metadata associated with it. The platform is rights compliant and fully integrated with all performance rights organizations including ASCAP, SESAC, BMI, and SoundExchange. It reports all mix and listener data downstream and makes necessary royalty payments on behalf of the site and the DJ.
Lindsay Luv, a celebrity DJ in Los Angeles and New York, has used the platform to host music for top brands like Victoria's Secret, "I use MixSCAN to deliver mixes to my fans at Thefuture.fm because it's the first and only platform where DJs can legally stream music and share in per-play royalties like other artists. Working with a legally compliant platform is important in that it ensures the rights holders of my music are properly identified and compensated. That's important to me and the brands that I work with; MixSCAN has allowed for that."
"The prolific rise of DJ performance and the digitizing of this music on the web makes it clear that the MixSCANâ"¢ concept becomes an increasingly relevant way to unlock tremendous value, not only for artists and DJs, but for the music industry as a whole," notes David Stein, Founder. "We've spent the last five years working with top DJs, recording artists and record label executives listening to the challenges they face and working to bridge the gaps that exist when trying to monetize mix-tapes, podcasts and live streams."
"Mix streaming technology is a unique area of expertise for the company," says Bob Barbiere, CEO. "Since Thefuture.fm pays a portion of its revenue to the performance rights organizations, DJs can use the site to share their mixes without the threat of copyright infringement or takedown notices. Although DJs traditionally share mixes for free, most free sites are not DMCA compliant and create a potentially large financial liability for the DJ. DJs who choose Thefuture.fm to share music with their fans represent a growing number who understand the risks and are concerned about the artists whose music they are mixing."
Dubset is launching its new DJ royalty program, with a special offering for music fans, in partnership with leading crowd-funding platform, Indiegogo (www.indiegogo.com/mixscan). The campaign provides a way for DJs to onboard their fans with exciting reward packages. Fans can select special offers such as subscription packages at dramatically reduced prices and tickets to exclusive VIP parties. It also allows fans to contribute towards MixSCANâ"¢ and enabling DJs to begin broadcasting their sets live, in high-quality digital audio, while managing all rights and royalties real-time.
"As more and more mixes are taken down from the free internet music sites, DJs are starting to understand the risks and work associated with sharing their music in the wrong places. The volume of DJs who now successfully offer their music at Thefuture.fm has allowed us to give back and create an important royalty program for them." The company estimates DJs will earn nearly 55 million dollars in new royalties over the coming years thanks to MixSCANâ"¢.