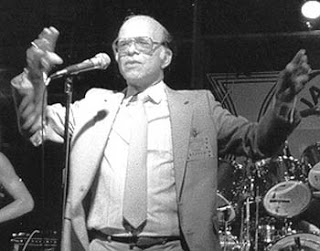 We were wondering when Jack's family would step in to address this situation. We have gotten NUMEROUS complaints about The New Jack the Rapper conference using Jack's name.   Attorney's statement is below…
JACK THE RAPPER is an iconic name, coined, developed, and made famous by legendary radio and media pioneer Jack "The Rapper" Gibson.   Jack began his radio career in the late 1940s at Atlanta's WERD, the first Black-owned and operated radio station in America.
Jack also served as the first National Director of Promotions and Public Relations for Motown Records.
Jack The Rapper is considered to be the father of Black Radio and pioneered the style of hip on-air announcing that many hosts like Daddy O, Radio DJo Henderson, and Frankie Crocker help to popularize it.
In 1977 Jack launched the first Jack The Rapper Family Affair convention for the radio and music industries.   Over the following decades, the convention was held in Atlanta and Florida.   The convention was widely supported by the Black music industry and the Black radio community and became one of the key annual gathering spots for networking, new artist showcases, informative seminars, and good ole' fashioned partying.
Jack passed away in January 2000 after a battle with cancer.
In early December, several Atlanta-based music industry entrepreneurs decided to organize a new music industry conference and chose to adopt the name The New Jack The Rapper Convention, contrived by Steve "Face" Riley and Billy D. Foster without the permission of Jack's heirs and without any consideration or deference for the legacy which Jack The Rapper and his family built.   Instead, they have chosen to pirate Jack's iconic moniker and promote their event as an incarnation of the infamous Jack The Rapper Family Affair.
It's a sad statement of complete disrespect and indifference to the rights and decades of work by Jack and his family.   There are now more The New Jack The Rapper conferences scheduled for Houston and New York City, all without the consent or support of Jack's family.
Jack and his beloved late wife Sadye are survived by his daughter Jill, son, Jackie, wife   Elsie, and grandchildren, Louis and Laryn and they have hired Atlanta-based renowned entertainment attorney, Kendall A. Minter, Esq., to protect their legal rights and preserve the integrity of the legacy built by Jack.
The family has been developing their own plans to hold a Tribute to Jack The Rapper Conference later this year in Atlanta.   Stay tuned for the original.