WASHINGTON (April 5, 2019) – Howard University's Executive Vice President and Chief Operating Officer, Tashni-Ann Dubroy, Ph.D., and Board of Trustee Member Leslie D. Hale were recently honored by the Washington Business Journal as 2019 Minority Business Leader Award recipients.
"We are proud of our outstanding COO, Tashni-Ann Dubroy, and Board Member Leslie D. Hale, and we thank the Washington Business Journal for honoring them," said President Wayne A. I. Frederick. "Their success in the realm of leadership, truth, and service is an important representation to the communities they serve and those that look up to them."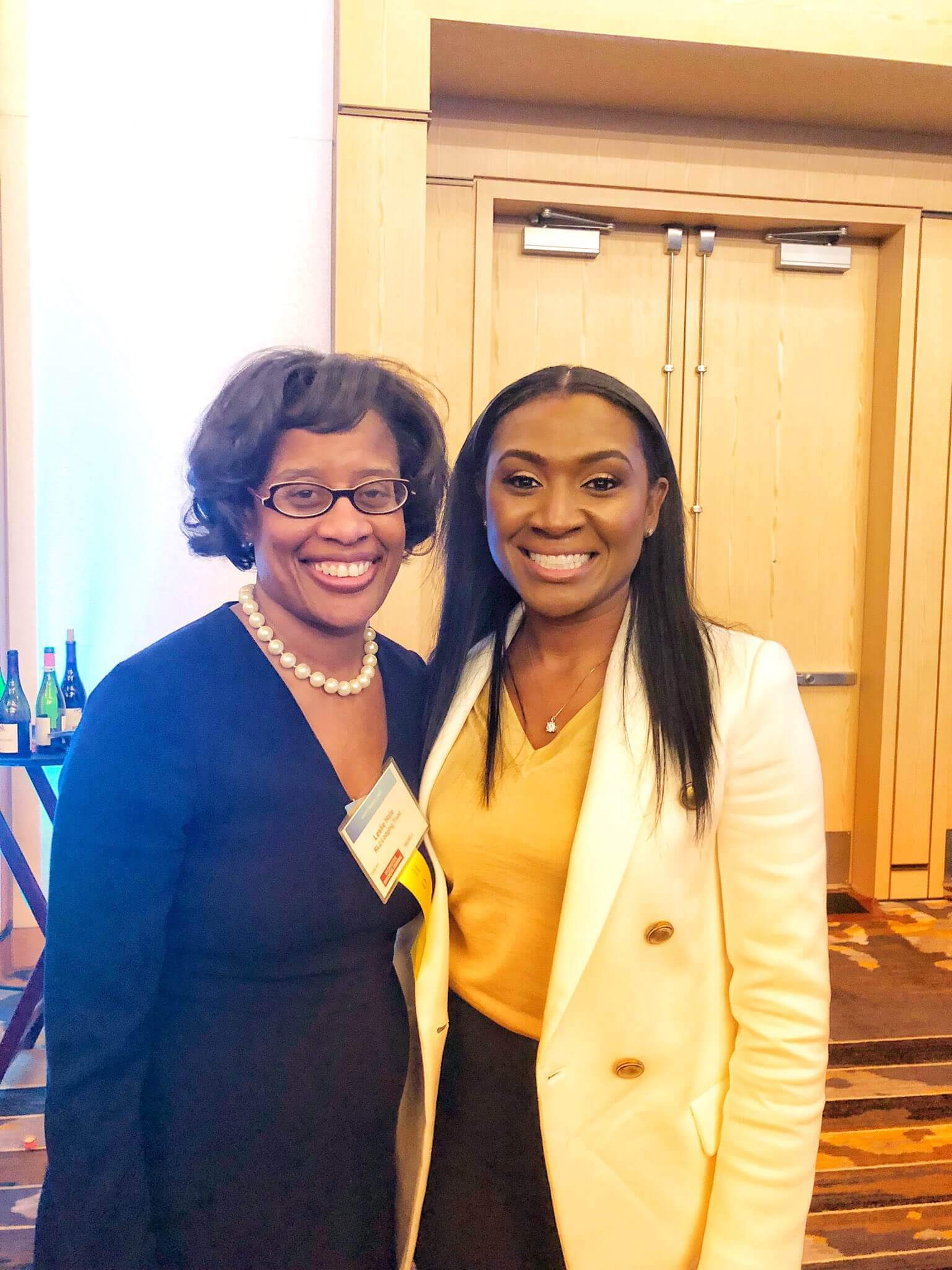 The Minority Business Leader Awards is an annual event hosted by the Washington Business Journal that recognizes the top minority business owners and leaders in the community. The event honors the entrepreneurial drive, creativity, and success of each of its honorees, with competition for the award at its peak.
Dubroy's leadership efforts have afforded her this honor, and such highlights in her career include: "Female President of the Year" by HBCU Digest; 2017 CEO of the Year in the Triangle Region; placement on the 40 Under 40: Excellence in Leadership list by the Triangle Business Journal; features in Money Magazine and Bloomberg's BusinessWeek and much more. She has also received numerous accolades from various philanthropic organizations.
"I am pleased, honored and humbled to be a recipient of this amazing award. To be recognized by the Washington Business Journal alongside such an accomplished group of strong minorities in business leadership positions is remarkable," said Dubroy.
Previously to her appointment at Howard University, she served in pivotal positions in higher education and technology. She was the 17th president of the Shaw University; a research scientist at BASF, the world's largest chemical company, where she quickly ascended to the position of global technology analyst, then appointed to serve chemical procurement manager, where she managed a strategic sourcing budget of $35 million. Dubroy also co-founded Tea and Honey Blends, a hair care company that manufactured and retailed natural hair care products, and co-owned downtown Raleigh's Element Beauty Bar. In the community, Dubroy serves on the executive board of the Greater Raleigh Chamber of Commerce, the Downtown Raleigh Alliance and the Carolina Business Development Fund.
Dubroy earned her doctorate in physical organic chemistry from North Carolina State University in 2007, and holds an MBA from Rutgers University in New Jersey. Today, she is a nationally-recognized advocate for female participation in the sciences and higher education, now driving Howard University forward.
"In full alignment with Dr. Wayne A. I. Frederick's robust vision at Howard, I am proud to have the opportunity to spearhead transformative projects that are contributing to the economic development in the District and helping to move Howard Forward," said Dubroy. "Through fiscal conservatism, institutional capacity-building and entrepreneurial innovation, my goal is to help create a sustainable financial model at Howard University that is replicable within the education and business sectors nationwide."
The recent honor for Leslie D. Hale, who has been a board of trustee member since 2013, is a nice addition to her 2011 honor by the Washington Business Journal as one of their "Top 40 Executives Under 40."
Hale is president and chief executive officer of RLJ Lodging Trust (RLJ), which is one of the largest publicly-traded lodging Real Estate Investment Trusts (REITs) in the U.S., with more than $3 billion in assets and 150 hotels operating across the country. Prior to taking the helm as president and CEO, Hale served as RLJ's executive vice president, chief operating officer and chief financial officer. As COO, Hale had a dual role with oversight of all financial matters and investor relations as well as responsibility for the management of RLJ's operating platform, primarily comprising the asset management and design and construction functions. Hale joined RLJ Development, LLC, the current company's predecessor, in 2005 as the director of Real Estate and Finance. She was promoted to vice president in 2006 and in 2007, then promoted again to chief financial officer and senior vice president. In 2013, she was promoted to executive vice president and in August 2018 she was named president/CEO.
She earned a bachelor of business administration degree with a concentration in finance from Howard University in 1994, graduating summa cum laude (Beta Gamma Sigma Honor Society) and earned an MBA from Harvard Business School, where she was a Goldman Sachs and Robert F. Toigo Fellow.
# # #
(Photo courtesy of Tashni-Ann Dubroy (right) at the Washington Business Journal 2019 Leadership Awards dinner event.)
About Howard University
Founded in 1867, Howard University is a private, research university that is comprised of 13 schools and colleges. Students pursue studies in more than 120 areas leading to undergraduate, graduate and professional degrees. The University operates with a commitment to Excellence in Truth and Service and has produced four Rhodes Scholars, 11 Truman Scholars, two Marshall Scholars, one Schwarzman Scholar, over 70 Fulbright Scholars and 22 Pickering Fellows. Howard also produces more on-campus African-American Ph.D. recipients than any other university in the United States. For more information on Howard University visit www.howard.edu
Media Contact: Imani Pope-Johns, [email protected]