Radio Facts: Howard University Students Create Yoga Club, Plant Seeds for Campus Farmers Market - https://radiofacts.com/howard-university-students-create-yoga-club-plant-seeds-for-campus-farmers-market/
Radio Facts:
A pop-up farmers market is planned on campus this month.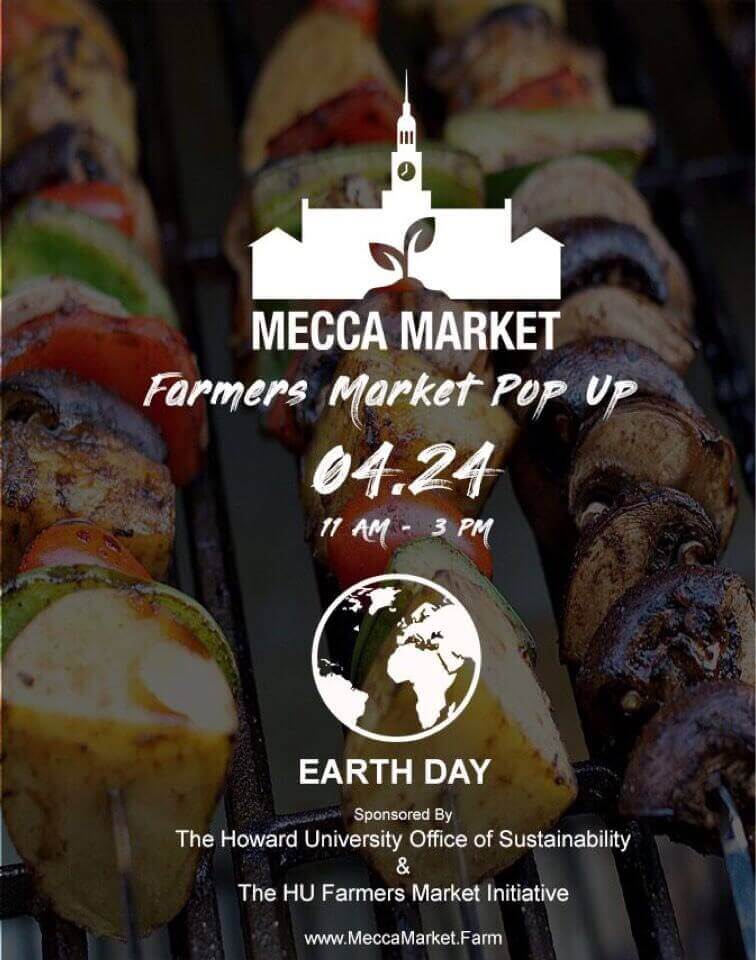 WASHINGTON (April 22, 2019) – A pop-up farmers market is planned this spring on the Howard University campus. Student organizers of "Mecca Market" say the hope the project will increase student awareness and access to healthy lifestyle practices.
"We believe diet related disease is the greatest threat to our generation," says John Slade, a philosophy freshman and director of the Howard University Farmers Market Initiative. "Most people our age have seen family members suffer ailments ranging from diabetes and obesity to heart disease and cancer. We know that any ailments and diseases could be avoided with proper diet and exercise."
Slade successfully campaigned for freshman class president in the College of Arts and Sciences last fall on the platform of increasing awareness of and access to healthy lifestyle choices. To date, the Howard University Farmers Market Initiative has two programs: Mecca Yoga and Mecca Market.
Mecca Yoga is a student run yoga club that hosts THURSDAY NIGHT YOGA each week at Yoga Heights studio on Georgia Avenue. The club invites guest instructors each week to lead the class in a yoga style customized for the Howard Audience, often with hip hop music and old school soul beats and even jazz and classical.
The vision for Mecca Market is a weekly, student-run farmers market on Howard's main campus that offers fresh fruits and vegetables and healthy prepared food offered by approved vendors.
"Food insecurity is a crisis in neighborhoods of color globally," says Jaylin Ward, freshman journalism major and director of Mecca Market. "My time at Howard has made me aware of the importance of equity and food security more than ever."
Travis Flowers, a civil and environmental engineering freshman, added that students leading the effort had dreams of creating a sustainable tomorrow.
As part of the committee's research, students examined the student-led farmers market at Georgetown University. Georgetown students explained that they had to pay vendors to participate at the start.
"There are certain risks vendors have to overcome when participating in startup markets," Slade says. "It often takes awhile for word-of-mouth to spread to draw enough customers to make it economically feasible. Our colleagues at Georgetown paid a minimum guarantee to vendors during the startup period. Now they are at the point where vendors pay them to participate."
The first Pop Up Mecca Market is planned for Wednesday, April 24 on the main campus between The College of Fine Arts and Douglas Hall. The goal of the pop-up is to bring momentum to the HU Farmers Market Initiative.
The HU Farmers Market Initiative is seeking fundraising support to help underwrite the costs of bringing vendors to campus. To learn more, visit [link].
Media Contact: Sholnn Freeman, Office of University Communications, [email protected]
ABOUT HOWARD UNIVERSITY
Founded in 1867, Howard University is a private, research university that is comprised of 13 schools and colleges. Students pursue studies in more than 120 areas leading to undergraduate, graduate and professional degrees. The University operates with a commitment to Excellence in Truth and Service and has produced four Rhodes Scholars, 11 Truman Scholars, two Marshall Scholars, one Schwarzman Scholar, over 70 Fulbright Scholars and 22 Pickering Fellows. Howard also produces more on-campus African-American Ph.D. recipients than any other university in the United States. For more information on Howard University visit www.howard.edu