Radio Facts: Radio Facts: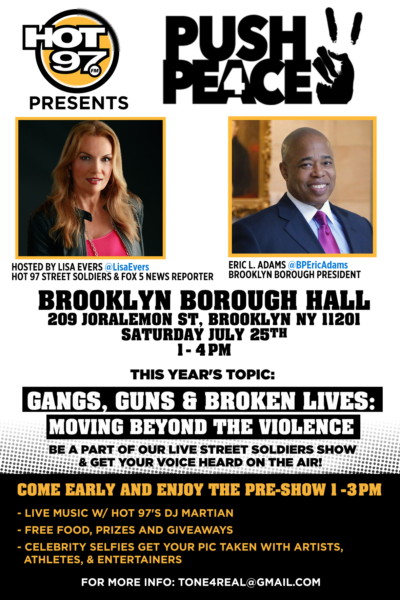 Join Lisa Evers this Saturday 7/25/15 at one of the most unique hip hop music events ever. HOT 97's award-winning show, "STREET SOLDIERS with Lisa Evers" is teaming up with Brooklyn Borough President Eric L. Adams to bring you the Push 4 Peace Town Hall Show and Community Event. The event will feature hip hop music artists, youth groups, local leaders as they come to together to discuss "GANGS, GUNS & BROKEN LIVES: Getting Beyond the Violence" and highlight positive solutions.
Pre -show event starts at 1pm and features music by HOT 97's DJ Martian, MC'd by International Battle Rap Champion Murda Mook, celebrity appearances from LOVE & HIP HOP star and singer AMINA BUDDAFLY , new LHHNY star & rapper PAPOOSE, CESAR & DUTCHESS from BLACK INK CREW, Mic Crusher Chris Rivers and the entire cast of the Youtube sensation MONEY & VIOLENCE, and many more surprises….PLUS a special appearance by JANELLI PICKENS, wife of CHINX.
The Town Hall will be convened by Borough President Eric L. Adams, for the second year in a row. The event is yet another sign of his commitment to improving life in our communities, and offering young people positive alternatives to violence. Members and youth leaders from more than 20 organizations will be on hand to represent their successful programs and offer outreach connections right on the spot.
From 3-4pm, HOT 97 Street Soldiers' and FOX 5 Reporter Lisa Evers will host the Town Hall show with a special panel of guests and live questions and comments from the audience.
The Push4Peace Show will be broadcast Sun 7/26 at 9am on HOT 97 in NYC & the tri-state, and will stream live on hot97.com across the United States.