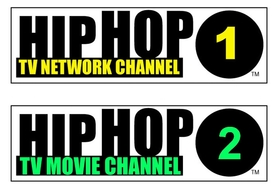 Hip Hop TV Networks
Digital Tier Channels Hip Hop 1-TV and Hip Hop 2-Movie Channels to
Preview Programs at NAPTE 2013 to National Distributors and Corporate
Sponsors & Advertising Agencies. The Channels have also reached an
agreement to partner with Hip Hop Hall of Fame to produce joint
programming initiatives beginning with full length Music Shows and
Program blocks. 'The Hip Hop TV Network Channels are set to Debut in
May 2013 with Online 'Web episodes' on an IPTV Platform and via
Satellite Carriers. The networks will then later expand to national
broadcasters, cable, mobile, VOD, and global satellite TV services in
the summer of 2013′, stated Bobby Fisher, Business Development Manager
for Hip Hop Global Media & Entertainment.
Hip Hop 1-TV is a 24 hour all hip-hop television network channel. The
network will feature daily shows, and weekly programs, themed video
segments, and annual television specials. The network will be an
artists and celebrity driven themed programmer that is geared to both
the national and international hip hop audiences. Shows include
breaking news, feature stories, interviews, live events, and behind the
scenes all-access programs.
Hip Hop 2-Movie Channel is a 24 hour all hip-hop Movie Channel. The
channel will feature the biggest names in Hollywood, hip-hop, and
independent filmmakers. Original films, documentaries, and biographies
will be produced in house, and in collaboration with artists, labels,
and Hollywood studios. There will be all access shows, interviews, how
to get in the biz, and "on-the-set" show segments that will make up
non-film programming on the network.
"Hip hop culture has needed its very own medium to reach the world! The
Hip Hop TV Network Channels was founded in 1992 and launched the Hip
Hop Hall of Fame Awards TV Show on BET Cable Network in the 0s, before
the internet. Today it will become the brand leader of pushing hip-hop
Music, Culture, Politics, Fashion, Drama, News, and Lifestyle programs
to vast audiences around the world," stated Network Chairman J.T.
Thompson.