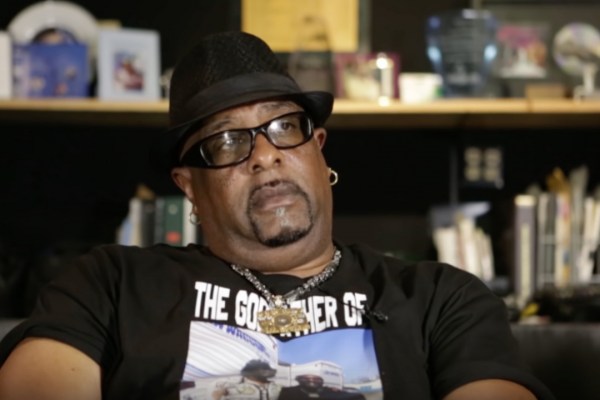 The acronym N.W.A. are three explosive letters loaded with controversy within the unpredictable genre of hip-hop music. But for one man, those letters mean only one thing – Not Without Alonzo. Alonzo "Lonzo" Williams is widely acknowledged as the definitive "Godfather of West Coast Hip-Hop" and considering his historical stance pioneering the birth of west coast hip-hop music, it is clearly understood why.
Williams can purposely take credit for brokering not only some of the biggest connections in hip-hop music but also for discovering some its biggest names, including Dr. Dre, Ice Cube and Eazy E. With the July debut of the highly-anticipated hbo series, "The Defiant Ones," about Jimmy Iovine and Dr. Dre, Williams' truth will be told. And to further clarify the matter, he has released a narrative in his own words, "N.ot W.ithout A.lonzo," a memoir and audio book, narrated by him and packed with the personal punch, flavor and charisma he is known for.
A sought after hip-hop music historian, Williams is often asked to provide commentary about west coast hip-hop music and its iconic artists. He has been featured in numerous documentaries and even portrayed in several films, including the motion picture blockbuster, "Straight Outta Compton." But it is his contribution to the hbo four-part documentary, "The Defiant Ones" that has him most excited. The special details the musical and business partnership between Dr. Dre and Jimmy Iovine. Directed by Allen Hughes, the film will include numerous in-depth interviews including Bono, Nas, Ice Cube, Kendrick Lamar, Lady Gaga, Gwen Stefani, Snoop Dogg and Alonzo Williams.
"My inclusion in "The Defiant Ones" shines the light on many things I have been talking about for years. When Allen Hughes first contacted me about being interviewed, we were supposed to spend about two hours together. Two hours turned into six as he was amazed by the history, anecdotes and insights I could share with him. I have nothing but gratitude for him and hbo for taking note of my role and input at the beginning of what has blossomed into one of music's largest genres. It still amazes me to this day, because at the time, we had no clue that our efforts would evolve to this level," expresses Williams.
In "N.ot W.ithout A.lonzo," Williams tells the tale of the'wild, wild west' hip-hop music style, sharing in minute and vivid detail his role in the early days of west coast hip-hop music guiding and influencing many of its early players. As the leader of the legendary R&B/rap group World Class Wreckin' Cru, Lonzo is credited with launching the careers of not only Dr. Dre, Ice Cube D.J. Yella and Eazy E., formerly known as N.W.A., but he was also instrumental with positioning artists like Michel'le, DJ Battlecat, the L.A. Dream Team, Rodney-­O & Joe Cooley and Compton's Most Wanted just to name a few. A must read for true hip-hop music fans, the introduction to "N.ot W.ithout A.lonzo" is provided by another west coast hip-hop music legend, popular radio personality Greg Mack. The audio book version of "N.ot W.ithout A.lonzo" also boasts an original soundtrack underscoring William's narration.
With a focus to uplift youth who are interested in a career in entertainment, Williams stays active on the speaker's circuit with appearances at organizations, high schools and colleges. "Though I'm happy about the popularity of hip-hop music culture, I'm not thrilled with some of the elements of it. In the early days, it wasn't about money, gangster bravado, crime and going to jail. It was about the music and keeping it real. My message as I mentor youth is to remind them that hip-hop music is really a creative art form and the message in the music is very important. The more I reveal about the early days of hip-hop music, the more the truth is unveiled and the more likely we can get back to some of those original concepts," cites Williams. His weekly male mentoring podcast, "Lonzo Presents G.A.M.E. (G.rown A.ss M.an E.nlightenment), is set to launch shortly.
Williams has received a multitude of honors and accolades for his contributions to hip-hop music culture. His personal collection of music memorabilia has been exhibited at The Schomburg Center for Research in Black Culture in New York City.
Watch Alonzo Williams on "The Defiant Ones" on hbo throughout July as the series airs and repeats. Get educated on the real history of west coast hip-hop music with a copy of "N.ot W.ithout A.lonzo" available on Amazon.com