Gene Griffin died May 25th, 2009 from early-onset Alzheimers but one of the commenters (below) states he thinks Griffin died of Karma.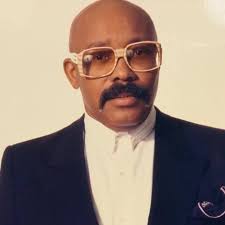 We knew a few people who actually knew Gene and his reputation certainly proceeded him. But was he as bad as they say he was? The comments on this story prompted me to update this story.
While there are only a few comments, the people making them appear to have industry connections. Have the things that people have said about him been fair considering his major contributions to the music industry?
Timmy Gatling was said to not trust Gene Griffin early on which ended his membership in the group and he was replaced by Aaron's brother Damion Hall. There was an industry story that Teddy was so pissed at Gene that he allegedly physically attacked him at a dinner at a Jack the Rapper industry conference. Gene came and went and while he worked with several groups after Guy he wasn't in the forefront as much. 
Gene Griffin's company was G.R. Productions (Gene-Riley Productions) which included music by Guy, Wrecks N Effect, Keith Sweat, Bobby Brown, Boy George, Heavy D and more throughout the late 1980s
His first major success in music was long before Guy and on his Sounds of New York label was the late-era disco track, "Last Night A DJ Saved My Life," by InDeep.
After that success, Gene then turned his attention to Kids At Work, the group that featured Teddy Riley which would later morph into Guy (it featured future one-time Guy member Timmy Gatlin and Clurel Henderson).
Who was Gene Griffin?
A Musical Life Well Lived:
Gene Griffin the Legendary American music producer, songwriter, and executive was born in the year 1944 in Phoenix City Alabama, He was raised in the BTW projects in Columbus Georgia where his father served in the Army and his grandfather was a minister. After graduating high school early and after his stint in the army, he left Columbus at the first chance he got and took a bus to New York. He settled in Harlem and gradually drifted towards music where he later met and married Donna Griffin, they were both regarded as powerhouses in the music industry.
In the early days, Gene was naturally drawn to music, he hung around 7th Avenue at 135th Street which was right around the corner to Small's Paradise where all the bands would come to play, including Jimi Hendrix and all other players, and here one would meet everybody. He would go to Birdland and hang out at the Village Gate.
Work Experiences
He took his first job in the music business in the late '60s, promoting records for CBS and it lasted a couple of years until he got laid off. However, Griffin did not sway away from the music industry in the '70s. He was part owner of clubs which he used to promote shows and he also tried dancing but realized he couldn't, but dancing kept him in the clubs and it made him aware of music, the kind of music people wanted to dance to and hear. Subconsciously, that is how Griffin's music career began.
Although, at first, Griffin spent 18 months in jail for selling weed in the streets, when he got out he reunited with another former record promoter and they founded Sound of New York Records. He finally scored big after some success with an early rap song of the 1980's by Trickeration called "Rock Skate Bounce." The hit featured two kids rapping over a prerecorded instrumental track they bought in a record store. He then put out a single by a group destined to be a one-hit-wonder. However, Griffin was launched as a significant player in the music industry by deep's disco-funk romp, "Last Night a DJ Saved My Life. 
Strength
It is said that Griffin's chief strength was his ability to keep his ear to the street and With Griffin established as a genuine hitmaker, he set out scouting for new acts to break and after failing a few times, he found Kids At Work which was a teen singing group. He signed them to CBS and put out one record in 1984, but the group flopped and changed its name to Guy, they replaced one of its members and signed a new deal with MCA. This time it clicked
Griffin had known the group's leader Teddy Riley for years; he lived in the projects on 7th Avenue, behind the Apollo Theater in Harlem where Griffin would come to hang around the corner. He had noticed a little kid about 7 years that was always talking about music and trying to play the guitars and they got quite acquainted and the kid started hanging around him. By the time Riley was a teenager he had earned quite a reputation for his multi-instrumental and production abilities, and he formed Kids at Work with friends from the projects. 
Partnerships
Griffin and Riley formed production partnership GR Productions (Gene-Riley Productions) after Guy's substantial success on the R&B charts in the late '80s and Griffin found himself at the centre of new jack swing characterized as the fusion of the late 80s R&B and hip-hop. He scored his triumph as a songwriter and producer under the new jack swing. Songs like "Just Got Paid" for Johnny Kemp and "My Prerogative" for Bobby Brown were at the centre of his success. He also produced tracks for other leading new jacks, including Keith Sweat. 
Griffin influenced the members of Guy to move with him back to Georgia in 1990. There they settled in Gwinnett County's Berkeley Lake. The team struggled for years and later had to dissolve and their decades-long relationship ended on less than friendly terms.
The group Guy split up citing a tragedy by their manager Gene Griffin, but According to Griffin, factions at the record company were geared towards breaking his influence over the group. They toiled to persuade Riley that Griffin had swindled them. These harmful allegations damaged Griffin's career and it kept Griffin largely on the outside of the music industry for most of the '90s.
Credibility
Griffin's credibility was predominantly restored Nine years after the dispute started though he still felt the sting of his loss. With his name out of the mix for nearly a decade he turned his attention to Southern hip-hop and he reverted to hanging out and keeping his eyes open for opportunities. 
Why Did Crystal Jones Really Leave TLC (video)
He soon heard about a rapper named Pastor Troy and signed him to his newly formed Sound of Atlanta label. Troy and Griffin scored with the We Ready album regionally then Universal Records picked up Troy's contract and paid off Griffin in a way that put him back on the urban-music map. SOA's second signing was Miracle, which earned Griffin a similar pay-off from Universal, and with those successes, Griffin was once again living comfortably.
Griffin Died May 25th, 2009 in Atlanta, GA from early-onset Alzheimer's disease.