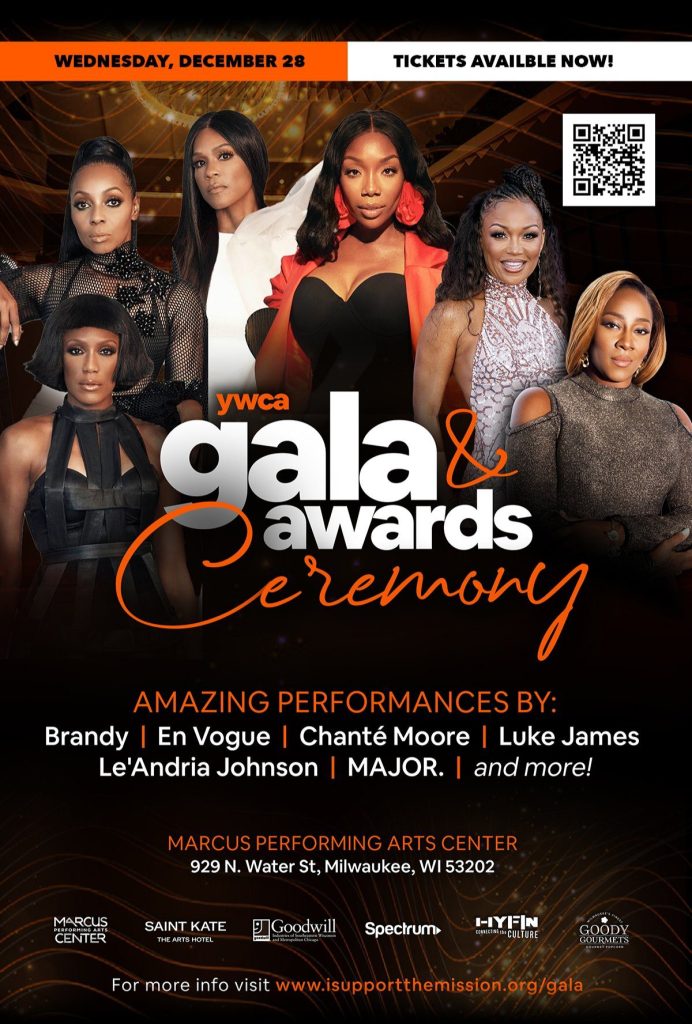 Award-winning director/choreographer Frank Gatson Jr., is giving back to the youth and community members in his hometown Milwaukee, Wisconsin by leading efforts to redevelop the YWCA Southeast Wisconsin headquarters as co-founder and creative director, alongside President and CEO, Tracy L. Williams. People of all ages and backgrounds will be able to join the YWCA Southeast Wisconsin on Wednesday December 28, 2022, in celebration of leaders and legends who demonstrate impact at the YWCA Southeast Wisconsin Inaugural Gala & Awards Ceremony. Plans will be unveiled for redeveloping 70,000 square feet of space in the current building on Dr. Martin Luther King Jr. Drive. The space will become a state-of-the-art Women's Empowerment Hub to promote racial justice by building bridges of understanding between races and cultures by expanding programming through arts and athletics.
Honorees of the inaugural gala include: acclaimed community organizer, journalist and leader in media relations Faithe Colas; the first woman of color to be elected Sheriff of Milwaukee County Dr. Denita Ball; leaders changing the lives of youth through education, Keith and Dr. Tanzanique Carrington; legacy in the arts Sarah Grant; legacy in athletics, coaching, and champions of the YWCA SEW mission by changing lives in the community Albert and Beverly Holmes; owners of Savoy's, providing community engagement and intergenerational solutions to racism; Orlando and Tina-Johnson-Williams; organizational YWCA SEW leader going over and beyond duties to support the mission through the pandemic as CHRO and now COO Sheila Mayhorn; trailblazing former WNBA and Wisconsin Athletics Hall of Fame athlete and first woman to coach men's college basketball – using sports to uplift the YWCA SEW mission, Tamara Moore; devoted community leader empowering and changing the lives of girls and future generations of women Tina Nixon; coaching junior Olympians of Racine and training one the best youth track stars in the nation from Southeast Wisconsin, Nicholas Payne; a legend using proximity to remove barriers and influence generations of youth of color to embrace the arts, Arlene Skwierawski; devoted leader impacting social ills of the YWCA SEW community by embracing and serving youth who are often rejected by society Phyllis Smith; a professional boxer from Milwaukee, impacting the world through sports and using his platform to address mental illness, Austin 'Ammo' Williams, a history maker as first woman to be appointed President of American Family Insurance Enterprise, Telisa Yancy; dynamic leader devoted to changing lives and investing in future generations of Milwaukee and beyond, Pastor Kenneth R. Locke, ll.
"In re-imagining the YWCA Southeast Wisconsin, we are recognizing leaders who represent our mission in action, some who have left legacies in which we aspire to continue and those who are paving the way for generations to come," shares President and CEO of YWCA SEW, Tracy L. Williams.
In addition to celebrating the honorees, the audience will be treated to a stellar line up of internationally known performers BRANDY, EN VOGUE, LUKE JAMES, CHANTÉ MOORE, LE'ANDRIA JOHNSON, MAJOR, DOE and more.
Frank Gatson Jr., shares, "It's very simple what we are doing here at YWCA Southeast Wisconsin. Our goal is to empower Women who will help empower our young people thus empowering the entire community. We will eliminate how the community feels about the young people of Southeast Wisconsin. We want to build bridges of understanding between races and cultures. To do that, our young people must be the best they can be. They are our future. Our programs will not tolerate mediocrity."
The inaugural gala will be held on Wednesday, December 28, 2022, at 8:00PM in Uihlein Hall at Marcus Center for The Performing Arts. Tickets can be purchased at the Marcus Center and Ticketmaster in advance and at the door.