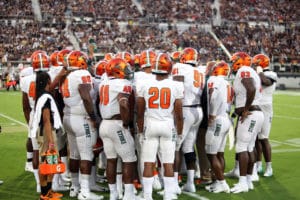 By Brian Howard
Florida A&M University (FAMU) athletics announced late Wednesday afternoon its decision to opt out of the 2021 spring football season, along with volleyball and indoor track & field. 
"The University supports the decision made by our athletics department as this is to protect our student-athletes, Rattler fans and supporters during this unprecedented time," President Larry Robinson, Ph.D., said. "When these programs return to competition our coaches and staff will have the teams ready to continue our tradition of excellence. Meanwhile, l encourage our student-athletes to continue to excel in their academic endeavors." 
Wednesday's decision also marked the end of an era for FAMU as the school wrapped up a 41-year relationship in the Mid-Eastern Athletic Conference (MEAC). Florida A&M will join the Southwestern Athletic Conference (SWAC) on July 1, 2021.
The ongoing pandemic made a spring schedule untenable, said Vice President/Director of Athletics Kortne Gosha.
"Florida A&M athletics' decision to opt out was made with the health and safety of our student-athletes as our top priority," Gosha said. "This was a collective decision with our coaches and staff, given the circumstances that COVID-19 has created for our program."
Gosha expressed disappointment that some student-athletes will not be able to compete this year. They will now shift their focus to achieving success in the classroom and look forward to the inaugural season in the SWAC.
Florida A&M is the second MEAC school and third NCAA Division I HBCU to forgo spring sports. Bethune-Cookman and Hampton, which plays in the Big South Conference, both announced their decision in October.
The post FAMU Athletics Opts Out of 2021 Spring Football, Volleyball and Indoor Track & Field appeared first on FAMU Forward.