Radio Facts: Radio Facts: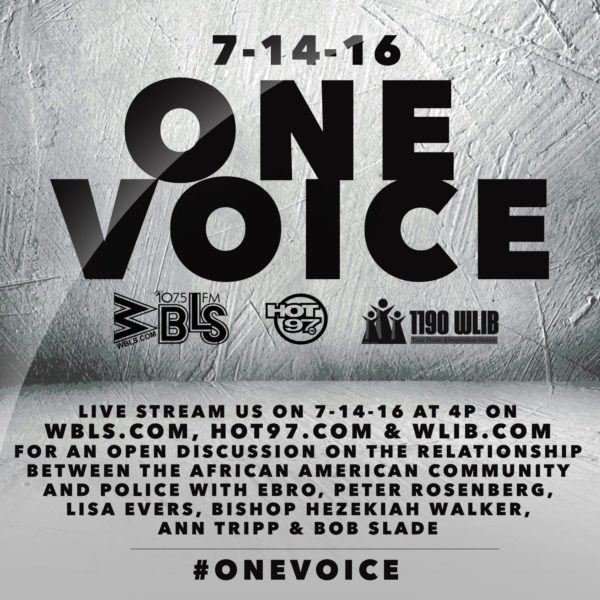 On Thursday, July 14, 2016, at 4 p.m. ET, Emmis New York radio stations WQHT-FM HOT 97, WBLS-FM 107.5 & WLIB-AM 1190 will simulcast a special program, "One Voice," across all three stations and online, discussing the current relationship between the African American community and the police . "One Voice" will be a one-hour program focusing on the recent deaths that have divided the nation and placed racism & police brutality back into the spotlight, with the hope being to provide perspective, voice to the intense emotions caused by these events, and identify potential actions which will produce positive change. Special guests will join HOT 97's Ebro & Peter Rosenberg from Ebro in the Morning, HOT 97 & FOX 5 reporter Lisa Evers, WBLS' Bob Slade from Open Line, and WBLS & WLIB's Bishop Hezekiah Walker & Ann Tripp in a panel discussion concentrating on what productive actions the community, the police, and the government are taking to help bring peace to society and eliminate hate and the unnecessary deaths of both civilians and law enforcement officials. Listeners are encouraged to ask questions, share their stories, or simply voice their frustrations on the current state of affairs by calling 800-223-9797 or using #OneVoice on social media platforms.
"We're hurting," states Ebro Darden. "The listeners are hurting, the police are hurting. With every death over the past few years, the call for change becomes reignited, but the same cycle keeps going; we can't let this continue. By coming together, letting the audience be heard, talking with government and police officials, we hope we can have honest conversation and begin the process of seeing real change. We may not have all of the answers to incite that change, but we've got to start asking the questions and having more open dialogue to get there."
Bishop Hezekiah Walker exclaims, "Our community is in mourning. In this trying time, we must stand-up and unite, help one another towards the path of righteousness. Let these deaths not be in vain; let peace and good and harmony fall upon our communities and our country."
Lisa Evers adds, "This issue is of tremendous concern to our communities, and I'm glad we're giving people a forum where their voices can be heard and we can advance some real solutions."
"One Voice" will be broadcast across HOT 97, WBLS 107.5 & 1190 WLIB on Thursday, July 14th from 4 p.m. to 5 p.m. ET. Listeners may call 800-223-9797 to be part of the conversation. The program will also be streamed at HOT97.com, WBLS.com, and WLIB.com, and will continue until 6 p.m. ET online. Questions and/or comments may also be submitted online via each station's social media accounts: HOT 97 Facebook, HOT 97 Twitter, WBLS Facebook, WBLS Twitter, WLIB Facebook and WLIB Twitter.