Radio Facts: EDGAR "SHOBOY" SOTELO BRINGS HIS "SHOBOY IN THE MORNING" SHOW TO NEW YORK CITY WEEKDAY MORNINGS ON THE NEW 92.3 AMP RADIO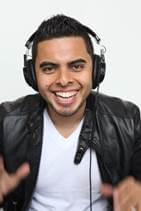 CBS RADIO station WBMP-FM 92.3 AMP Radio launched "Shoboy in the Morning" as its new weekday morning drive show (Monday-Friday 5:30-10:00AM), this morning, January 22. The program features the award-winning Edgar "Shoboy" Sotelo making his New York City radio debut. Shoboy was most recently host of morning drive on CBS RADIO's KMVK-FM in Dallas.
"We're establishing a new take on morning drive with this show," said Rick Thomas, Program Director of the station. "The emphasis will remain on music but with an infusion of relevant and useful information – with a touch of Shoboy's positive humor – that New Yorkers need to start their day. We are thrilled to welcome Shoboy and his award-winning personality to AMP."
Also joining the show is Nina Hajian, a former New Yorker by way of Seattle and Sacramento where she most recently anchored the morning show at CBS RADIO's KZZO-FM. Hajian will provide insight and commentary on music, lifestyle, and tri-state area nightlife.
The station's local weekday line-up continues with Niko in middays (10:00AM-3:00PM), Astra from 3:00-7:00PM, and Toro from 7:00-11:00PM. 92.3 AMP Radio, New York's newest CHR station, is available on-air at 92.3FM, online at www.923ampradiony.com and through the Radio.com app for a variety of mobile devices.
"The CBS RADIO New York family is delighted to welcome Shoboy and Nina from our sister stations in Dallas and Sacramento, respectively," commented Scott Herman, Executive Vice President, Operations for CBS RADIO and New York Market Manager. "We are committed to developing talent who can deliver the best content across all of our formats and assets."
The National Association of Broadcasters recognized Sotelo as one of radio's brightest rising stars in 2011 with the Marconi Radio Award for Spanish Format Personality of the Year. His "Shoboy en la Manana" debuted on May 17, 2010 on CBS RADIO's Mega 107.5 in Dallas/Fort-Worth, one of the top-rated morning shows in the market. His energetic, passionate, and candid personality radiates fun; his program features an innovative fusion of music, comedy, entertainment and community empowerment.
About 92.3 AMP Radio
New York's 92.3 AMP Radio is owned by CBS RADIO, one of the largest major-market broadcast media operators in the United States. Found at 92.3FM, the station and its personalities have served New York area listeners with hit music since May 2014 through interviews with artists, live and local events, music discovery, concerts and contests.