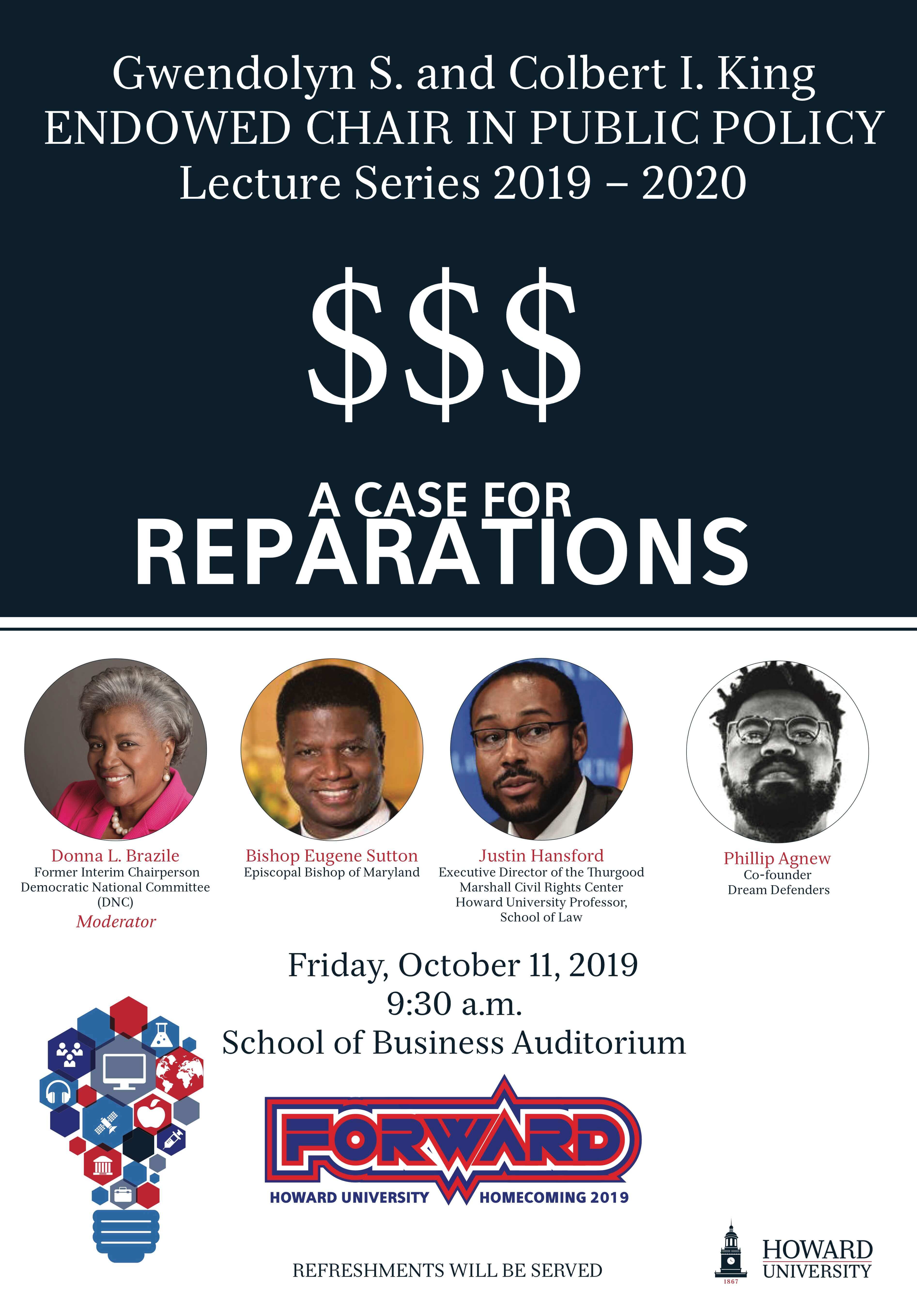 WASHINGTON – Academics, scholars, and activists will discuss crucial issues impacting the African-American community, locally and abroad, at the Howard University Ideas Symposium, scheduled Friday, Oct. 11 at 9:30 a.m. at the School of Business Auditorium, 2400 6th Street NW, Washington, D.C. This event is free and open to the public.
King Lecture Series Chair and Political Strategist Donna Brazile will moderate the panel with special guests, Eugene Taylor Sutton, Justin Hansford, and Phillip Agnew on "The Case for Reparations." The Ideas Symposium advances President Wayne A. I. Frederick's vision of Howard Homecoming serving as the most dynamic celebration in the nation and a destination for thought leaders and all members of the Howard community to discuss critical issues that impact our communities.
Immediately following the symposium, President Frederick will present his annual State of the University Address at 11 a.m.
HU Ideas Special Guest Panelists include:
Rt. Reverend Eugene Taylor Sutton, Episcopal bishop of Maryland – The Rt. Rev. Eugene Taylor Sutton has been the Diocese of Maryland since 2008 and is nationally known for his commitment to non-violence, reconciliation, the environment, and the practice of Centering Prayer. He offered testimony on the June 19 hearing in support of Bill H.R. 40 during the House Judiciary Subcommittee Hearing on Slavery Reparations.
Justin Hansford, executive director of the Thurgood Marshall Center for Justice at Howard University – Hansford is a leading scholar and activist in the areas of critical race theory, human rights, and law and social movements. He is a co-author of the forthcoming Seventh Edition of Race, Racism and American Law, the celebrated legal textbook that was the first casebook published specifically for teaching race-related law courses. He is also an associate professor of law at Howard University.
Phillip Agnew, co-founder of Dream Defenders – He emerged as a national activist when he helped to organize students from FAMU, Florida State University and Tallahassee Community College in the creation of the Student Coalition for Justice, which was formed in response to the Martin Lee Anderson case. In 2012, he co-founded the Dream Defenders and has been dubbed "one of this generation's leading voices" and recognized by both EBONY magazine and The Root as one of the 100 most influential African Americans in the nation. His work in community activism has been highlighted internationally in the media.
Watch Live:
To catch the live stream of the Howard University Ideas Symposium at 9:30 a.m., visit: https://www.whut.org/home/klshomecoming/
To catch the live stream of State of the University Address at 11 a.m., please visit: https://www.whut.org/home/state-of-the-university-address-2019/
# # #
About Howard University
Founded in 1867, Howard University is a private, research university that is comprised of 13 schools and colleges. Students pursue studies in more than 120 areas leading to undergraduate, graduate and professional degrees. The University operates with a commitment to Excellence in Truth and Service and has produced four Rhodes Scholars, 11 Truman Scholars, two Marshall Scholars, one Schwarzman Scholar, over 70 Fulbright Scholars and 22 Pickering Fellows. Howard also produces more on-campus African-American Ph.D. recipients than any other university in the United States. For more information on Howard University visit www.howard.edu
Media Contact: Imani Pope-Johns, [email protected]