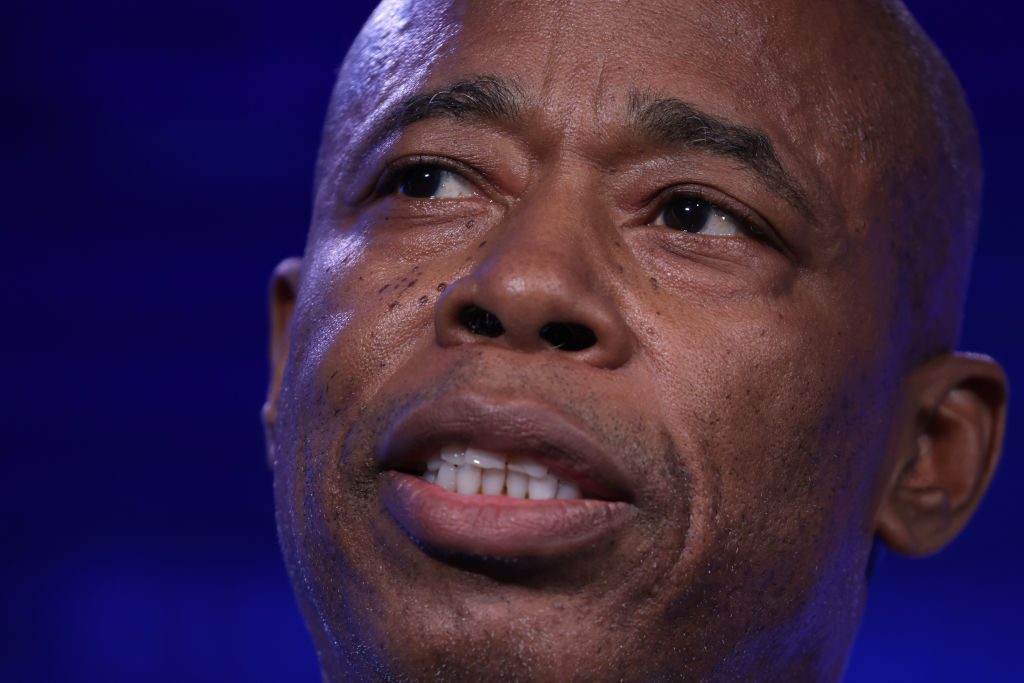 As part of his initiative to end gun violence, New York City Mayor Eric Adams has pledged to fulfill a promise to reinstate the controversial plainclothes anti-gun unit, he announced on Monday.
Renamed neighborhood safety teams, the New York Police Department is expected to launch the new units in the next three weeks. The anti-gun unit's purpose is to assist uniformed public safety teams. Many qualified candidates have been identified. The focus will be on the 30 precincts where 80% of violence occurs.
Under the direction of Bill de Blasio, the original plainclothed anti-gun units were disbanded in 2020. Since its dissolution, shootings and violent crime have increased in New York City. As a former NYPD sergeant, Adams said, it's an issue.
"New Yorkers feel as if a sea of violence is engulfing our city. But as your mayor, I promise you, I will not let this happen. We will not surrender our city to the violent few," Adams said at City Hall Monday. "Gun violence is a public health crisis. There's no time to wait. We must act."
Progressives led a call to defund the police for the disproportionate targeting of Black and Latino neighborhoods by officers. After the death of George Floyd, supporters of defunding the police had new ammunition.
According to the Mayor's office, the city of New York will conduct "listening tours in key neighborhoods, truly understanding the challenges of past Anti-Crime Units and providing additional training, supervision, analytics, and risk monitoring to ensure these enhanced teams work with communities." 
National Police Association spokeswoman Betsy Brantner-Smith, a retired police sergeant, said to Fox News Digital that a plainclothes unit is crucial in investigating and reducing gun-related crimes. Branter-Smith revealed that she learned people who carry firearms for criminal purposes can be a danger to a uniformed officer in a marked car.
"Plainclothes officers need to be able to move freely, of course, in all areas of the city, but they need to especially focus on those areas where violent crime is most prevalent," she said. "When we look at New York City, like a lot of other large cities, very often that's going to be in the poorest of areas."
"So, we've got to employ logic," she continued. "We've got to employ statistics and take a good hard look at where the violent crime is happening, who's committing it and then put plainclothes resources in those areas because a plainclothes police officer can move a lot more freely in an area to be able to detect violent criminals and stop them and hopefully remove more illegal firearms from the streets of the city."
NYC has seen a wave of violence against officers. The announcement by Adams to reinstate the anti-gun unit comes as New York City mourns the loss of NYPD Officer Jason Rivera,22, who was killed while responding to a domestic violence call in Harlem. Wilbert Mora, 27, his partner, remained in critical condition as of Monday. A third officer on the scene shot the suspect. He died from his injuries.
"It's time to take the politics out of policing and out of crime response and crime prevention," Brantner-Smith said Monday, speaking to Fox News Digital before Adams' press conference. "Remember, we got rid of this, the gun unit that the mayor is bringing back. That was eliminated for purely political reasons. Politics has no business being involved when we're talking about people's safety."
"After we look at the last 20 months in the whole country, I think we can all now safely say, and we need to realize and be adults about it, that these pro-criminal policies not only are they not working," Brantner-Smith said. "They are endangering people, especially people in urban areas. And if you look at this murder statistics, they're especially endangering people of color."
New York Gov. Kathy Hochul announced on Sunday the formation of an Interstate Task Force with the city to target guns as a response to Rivera's death. Adams thanked Hochul for the additional resources and renewed calls to make adjustments to the state's bail reform law.