New Orleans has embraced their newest family member, DeDe McGuire, host of the nationally syndicated DeDe in the Morning program. The ladies of Mystic Krewe of Femme Fatale felt it only fit to include DeDe McGuire in the opening Mardi Gras ceremonies as Grand Marshall for their yearly parade.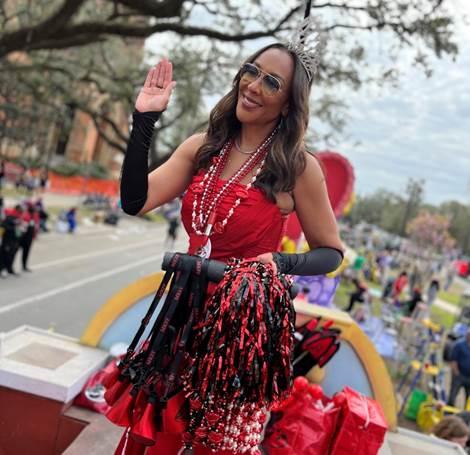 Named as the 2022 Les Femme D'Abord, DeDe enjoyed Friday night with the ladies of MKFF at their annual Gala where she was honored for her accomplishments on and off the air.
J'Michael Francois, Operations Manager/Program Director at KMEZ, spoke on his excitement adding her to the line-up in the New Orleans area. "DeDe In The Morning is a breath of fresh air and the listeners love her. She's going to be around for a long time. New Orleans loves her."
"Thank you ladies of the Mystic Krewe of Femme Fetale for inviting me to be part of their Mardi Gras. I did my VERY first second-line dance." added DeDe McGuire. "And shouts out to all my New Orleans friends who listen to us on KMEZ 102.9 and welcomed me to their city."
Be sure to tune in to DeDe In The Morning weekdays 5am-10am.
The show is now heard in over 60 markets including Dallas, Chicago, Milwaukee, Pittsburgh, New Orleans, New Haven, Birmingham, Oklahoma City and Toledo.