Digital and Radio Facts: Radio Facts: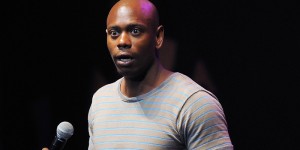 As we all know, Dave Chappelle has no problem walking away from uncomfortable situations. He walked away from a $50 Million deal from Comedy Central to bring back his critically acclaimed Chappelle Show.
Last night in Hartford, CT fans would not stop screaming and yelling in the audience after he asked for them to calm down so he could do his set. It seems as if most of the yells and screams were from a group of fans that  were excited to see him but it became unruly. After continuously asking the crowd to settle down, Dave just decided to end his show after trying to calm the crowd for about 25 minutes.
The funny part is if you read the comments on the video that one of the patrons recorded, most of the people seem to be siding with Dave and a few of them where there to experience the walk-off.
One person said, "He'd already asked the crowd before this (several times) to stop yelling and let him do his set, but certain people in the crowd wouldn't stop yelling. The owners of the venue didn't do anything and let a handful of people ruin the show for everyone. After nearly a half hour, Dave Chappelle said goodnight and walked off the stage (shown in this video).He's been incredibly funny during his sets in the rest of this tour, so I really feel it was the crowd's loss in this case."
While another stated, "im from hartford, and i was there, and it was our fault not his. i woulda walked off too…fuck hartford."
Check out the video as it captures Dave's last attempt as he walks off the stage and tell us what you think.
https://youtu.be/Mr7eS2NY5t8