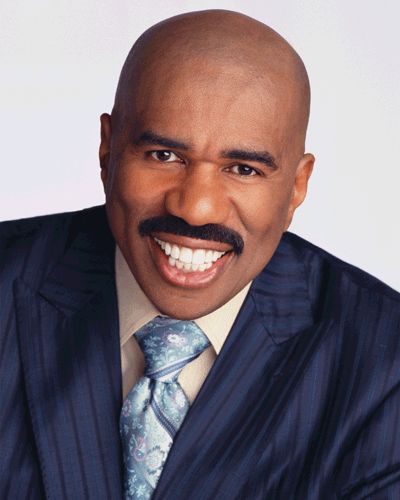 Registration Kicks Off March 1st for Dallas; Harvey Raising Funds to Host Camps in Ten Cities
Creating his first Father's Day Mentoring Weekend last year for 100 teenage boys, multi-faceted entertainer Steve Harvey is taking his bike and pedaling to the limit to create mentoring camps in 10 cities nationwide for 2010. Kicking off registration on March 1st for the 2nd Annual Father's Day Mentoring Weekend in Dallas, Harvey is on his recumbent bike broadcasting live during his long-running radio show The Steve Harvey Morning Show, encouraging the show's 7 million listeners to raise funds supporting mentoring experiences in 10 cities.
Through The Steve Harvey Mentoring Weekend for Young Men, Harvey is working to bring guidance to young men who are without fathers in their lives. "When you teach the principles of manhood, you will produce a better man; because a boy without a male role model is like an explorer without a map," says Harvey. Harvey is pedaling to raise $1 million, to host 1,000 boys and their guardians for 10 mentoring weekends throughout the year. Starting with Dallas for the 2nd Annual Father's Day Mentoring Weekend, from March 1st to March 31st students can register at www.SteveHarvey.com to be among the 100 boys selected, with 50 spots going to Dallas-area students. Eligible participants must be legal residents of the 48 contiguous United States or Washington DC, between the ages of 13-18, from a single female head of household, and currently enrolled as a student in grades 8-11.
A program that brought together 100 boys ages 13-18 and their guardians to Harvey's Dallas ranch for a weekend of unforgettable experiences, Steve Harvey held the first Steve Harvey Mentoring Weekend for Young Men in June 2009 to great success. Transforming his ranch into "Harvey Town" during Father's Day Weekend, Harvey hosted 100 boys from across the country for a 4 day, 3 night specially-designed range of activities, entertainment and special guests to help them prepare for their futures. After registration for Dallas closes March 31st, participants will be notified in May. A number of last year's participants will also return to serve as junior counselors in Dallas this year.
Expand ing on his Mentoring Weekend after Father's Day in Dallas, Harvey aims to host Mentoring Weekends in New York, Atlanta, Chicago, Tampa, Washington DC, Charlotte, Detroit, Philadelphia and New Orleans.
Says Harvey, "That weekend in 2009 was a life-changer, and I am going to keep pedaling to make the Mentoring Weekend bigger and better this year to set up camps in 10 cities! How long can I keep going on this bike? Join me to find out! With your help, I will keep going as long as it takes to bring mentoring nationwide."
Listeners can tune into The Steve Harvey Morning Show's live broadcast in 65 markets, or watch Steve Harvey on his bike during his show's live webcast 6 AM – 10 AM EST on www.SteveHarvey.com. Eligible participants can visit www.SteveHarvey.com starting March 1st, to sign up for the Steve Harvey Father's Day Mentoring Weekend in Dallas. For information and making donations, please visit www.SteveHarveyFoundation.com.