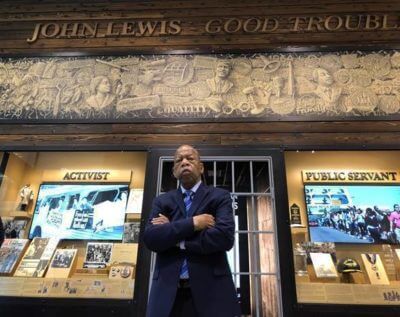 Following the successes of RBG, THREE IDENTICAL STRANGERS, and APOLLO 11, CNN Films announced today that it has partnered with Trilogy Films and Color Farm Media to develop a documentary feature about John Robert Lewis. Directed by Dawn Porter (Gideon's Army), the film will explore the extraordinary life of the civil rights icon and Georgia Congressman. CNN Films will retain North American broadcast rights for the film. Other U.S. rights for the film, including theatrical distribution, remain available. AGC Studios is co-financing and controls international rights that will be sold via its worldwide sales subsidiary, AGC International.
The untitled film is being produced by Porter and Laura Michalchyshyn for Trilogy Films, withErika Alexander and Ben Arnon of Color Farm Media. The executive producers are AmyEntelis and Courtney Sexton for CNN Films; and Stuart Ford and Rachel Traub for AGC Studios.
Porter started her year of principal photography with the Congressman in September 2018, as he began an exhaustive campaign schedule for himself and others in advance of the 2018 U.S. midterm elections and continued through the first year of the 116th Congress. Her cameras followed a modern political thriller that unfolded as the nation lurched towards a record-setting government shutdown, and will continue to follow the Congressman through 2019. Ultimately, using interviews and archival footage, the film will illustrate how Lewis' 60+ years of legendary social activism and legislative action on civil rights, voting rights, gun control, healthcare reform, and immigration, has prepared him for today.
Pages: 1 | 2 | Single Page