Radio One, a division of Urban One − the largest distributor of urban content in the country, today announced the installation of long-time radio veteran, Chris Harris, as Program Director for its Cincinnati and Columbus, Ohio markets. Urban One is the largest African American-owned multimedia provider of content targeted to the Black and Urban consumer.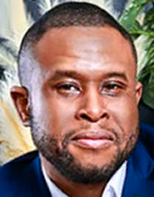 Chris Harris' career in radio began in 2002 when he accepted a position with Radio One as a promotions assistant/web coordinator for WMMJ 102.3 FM. By 2010, Chris had progressed in his career to working as a music director/programming assistant for WMMJ 102.3 and WKYS 93.9 FM.
After leaving Radio One, Chris worked for several different organizations including KPRS 103 at Carter Broadcast Group in Kansas City, WHUR 96.3 FM Howard University Radio in Washington, DC, WGFT a Y-Town Broadcasting network, and the Black Information Network with iHeart Radio, where he gained additional experience as a music director and assistant program director.
In his return to Radio One, Chris will be working as the program director for two stations, where he will be responsible for all music, imaging, and content for both WIZF 101.1 FM in Cincinnati and WCKX 107.5/106.3 in Columbus, Ohio. "It feels great to
bring Chris back home to the Radio One family; he has a lot of passion for the business, and we look forward to having him in Cincinnati and Columbus." said Colby Tyner, Senior Vice President of Programming at Radio One.
"I'm excited to be going back to where it all started for me 20 years ago at Radio One. I'm excited for this new chapter in my professional career." remarked Chris Harris. "I'm looking forward to working and learning from Colby. I'm also excited to be working with Dan Abercrombie, Kimberly Kyle, Eddie Harrell, Jr., and the all-star programming teams at The Wiz and Power as we continue to grow and build both brands."