Radio Facts: Radio Facts: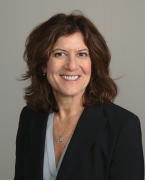 Andi Poch has been named Senior Vice President, Sales, CBS Local Digital Media, it was announced today by Ezra Kucharz, President, CBS Local Digital Media. In this New York-based role, she will manage and execute the overall digital advertising sales strategy for the division. She will report to Kucharz and work closely with the local digital sales teams for CBS RADIO's 117 Radio Station s and the 29 CBS Television Stations, as well as the entire national sales group. The appointment is effective immediately.
"Andi's extensive sales background at numerous top media brands is remarkable," said Kucharz. "Her proven success to implement a creative vision on a digital level, as well as her leadership expertise, will further support and strengthen our division. We are thrilled to have Andi join the CBS Local Digital Media team."
With more than 30 years of sales experience within the digital, live events, and television industries, Poch comes to CBS Local Digital Media from Townsquare Media, where she was most recently Senior Vice President, Integrated/Digital Sales and Strategy. In this position, she managed various teams on the direct sales, execution and strategy for the national digital and live events groups.
Prior to that, Poch was the Chief Revenue Officer for IconicTV from 2012-2013, where she directed the sales and strategy efforts for a startup representing a roster of YouTube channels, including JAY Z's Life and Times, and Skrillex, Diplo and A-Trak's POTATO.
From 2010-2012, she was the Executive Vice President of Sales for Alloy Media & Marketing, where she created and implemented successful marketing and business growth strategies for their various websites and branded entertainment properties, including Smosh, teen.com, and gurl.com.
Poch also held senior sales management roles at a number of companies, including MTV, Madison Square Garden, the WNBA and Buzzmedia. She received her degree in English and journalism from the University of Michigan.