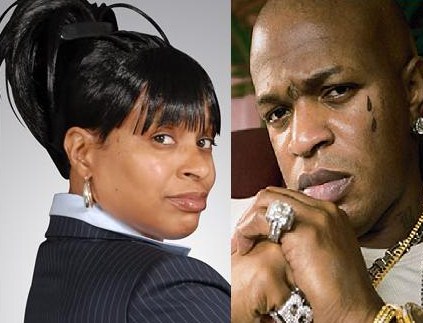 Cash Money Content & Atria Books Present PAYBACK AIN'T ENOUGHFrom New York Times Best Selling Author WAHIDA CLARKIn Stores April 24, 2012″Payback Ain't Enough" is the follow up to Clark 'sNew York Times bestseller "Payback Is a Mutha"New York, NY "" Cash Money Content, the book publishing arm of the iconic record label Cash Money Records will release "Payback Ain't Enough," on April 24, 2012 from New York Times bestselling author Wahida Clark.
"Payback" is released on the heels of Clark 's street lit hit "Justify My Thug," which made its debut on the New York Times bestseller list at #19 in its first week of release!"Payback Ain't Enough" is the follow up to Wahida Clark's bestselling Black fiction title "Payback With Ya Life" (2008). Released in 2006, "Payback Is A Mutha" was one of the few Black fiction novels to appear on the New York Times Extended Bestseller's list!
Wahida Clark was crowned "The Queen of Thug Love Fiction" after the success of her erotic and dramatic Thug Series of novels which have sold nearly 350,000 copies. Based on her life growing up on the streets of Trenton , NJ , Wahida Clark began writing novels while serving a 10 ½ year prison sentence for money laundering and mail fraud.
Clark has written 11 successful novels to date, 7 of which were written and published while behind bars. Payback Ain't Enough is the third novel in Clarks successful "Payback" series. The book tells the story of "˜around-the way-girl' Shan and the chaos surrounding her relationship with her wealthy drug Kingpin lover Briggen; with even higher stakes, danger and glamour than the novels two predecessors, Payback is one unexpected twist after another, and leads Clark 's characters down a perilous path where ambitions, secrets and revenge collide.
In 2011, Bryan "Birdman" Williams and Ronald "Slim" Williams, co-founders of the chart-topping rap label, Cash Money Records and Cash Money Content books, joined forces with Clark for the release of Justify My Thug, CMC's first New York Times bestseller. A smart businesswoman, Clark saw the venture as a way to gain greater visibility for her brand in the hip-hop marketplace, a decision that has more than paid off.
"Ronald "Slim" Williams of Cash Money Records and Cash Money Content said of the New York Times debut of "Justify:" "We are expecting only big things from Wahida. The Cash Money collaboration with "The Queen" is a match that can do nothing but succeed."Clark's novels are written to entertain its readers as well as to serve as cautionary tales.
Leaving prison in 2007, Clark created "Wahida Clark Presents" Publishing which, in just 4 short years, has grown into a successful business worth nearly 1 million dollars. Wahida Clark Presents is home to 14 successful Black fiction authors with 18 titles currently in stores! Clark attributes her savvy business model to jail house-mate and multi-millionaire businesswoman Martha Stewart, who she consulted with on her business plan, receiving invaluable advice.
Clarks other books include: Thugs and the Women Who Love Them (Part 1 of the "Thug Series"), Every Thug Needs a Lady (Part 2), Thug Matrimony (Part 3), Thug Lovin' (Part 4), Justify My Thug (Part 5), Payback is a Mutha (Part 1), Payback With Ya Life (Part 2), The Golden Hustla and Sleeping with the Enemy.
She has also edited her first anthology, What's Really Hood!: A Collection of Tales from the Streets.As well as an accomplished author, Wahida Clark is a motivational speaker who has shared her amazing story with young people at juvenile facilities and high schools in the New York/New Jersey area.
"I share my story as often as I can in hopes of opening the eyes of young people caught up in the life of fast money on the streets of our Black communities," said Clark. "If my story changes the path of just one at-risk youth, I have done what I have set out to do. "Clark actively serves as Vice President of the East Orange NJ- based Prodigal Sons and Daughters Redirection Services, a re-entry program for convicts and ex-convicts and Phoenix Academy Inc., an organization that provides support groups and mentors for at-risk youth.
Wahida Clark still resides in New Jersey and, aside from writing and publishing novels, is a proud wife and mother.
For more information on Wahida Clark, log onto www.wclarkpublishing.com. Follow Wahida on twitter @wahidaclark and on facebook at facebook.com/wahidaclarkpublishing, facebook.com/wahidaclarksrealreaders or facebook.com/wahidaclark.
About Cash Money ContentCash Money Content is a groundbreaking partnership that pairs the Cash Money Records brand with Atria Books, a division of the publishing powerhouse, Simon & Schuster.
Other releases from Cash Money Content include Raw Law: An Urban Guide to Criminal Justice by Attorney Muhammad Ibn Bashir, The New York Times bestseller Justify My Thug by Wahida Clark, Murderville: First of a Trilogy by New York Times bestselling co-authors Ashley & JaQuavis, Pimp:
The Story of My Life, Trick Baby and Long White Con, by legendary author Iceberg Slim, all out now. Cash Money Content will release the entire Iceberg Slim backlist of seven novels over the next few years.Earlier this year, CMC released An XL Life: Staying Big at Half the Size, by national radio host Kurt "Big Boy" Alexander, and Get It Girls:
A Harlem Girl Lost Novel, by Treasure Blue. Spring 2012 will mark the highly anticipated release of Inner Circle from Evelyn Lozada, star of VH1's #1 reality series "Basketball Wives." Inner Circle, due out June 5, will be the first novel from Evelyn's new series, The Wives Association.This summer Cash Money Content will release Murderville 2: The Epidemic on July 24, from Ashley & JaQuavis.
Fall releases include Death Wish from Iceberg Slim (September) and Animal: A Hood Rat Novel by K'wan, due out in October 2012.About Cash Money RecordsCash Money Records is a legendary record company founded by brothers Bryan "Birdman" Williams and Ronald "Slim" Williams.
The record label has grown from the housing projects of New Orleans into a multi-million dollar Black empire and is considered the most successful independent record label in America as well as an enduring global street brand. Cash Money is home to chart-topping, multi-platinum recording artists like Lil Wayne, Drake, Nicki Minaj, Jay Sean, and Bow Wow.
Today, Cash Money operates as a subsidiary of Universal Music Group, the world's largest music company. For more information on Cash Money Content books, log onto www.CashMoneyContent.com and follow on Twitter @CashMoneyBooks and on Facebook @Cash Money Content.