Radio Facts: Radio Facts: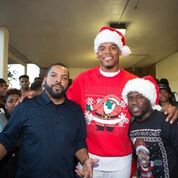 Carolina Quarterback Cam Newton is scoring touchdowns, winning, and dancing a lot these days due to the leadership he is exhibiting on and off the field. The QB brought holiday joy to hundreds of kids in the Charlotte area through his Santa Cam's Surprise sleigh.
On Tuesday, December 15th in Charlotte, NC, NFL superstar Quarterback, Cam Newton changed out of his Carolina's Panther uniform into his secret santa hat. Through his foundation, CNF, the Cam Newton foundation, Cam joined his Panthers teammates, as well as the 'Ride Along 2′ Stars, Kevin Hart and Ice Cube, for a four stop surprise sleigh for children in the Charlotte area. Some of Santa Cam's holiday presents included a surprise shopping spree for 25 kids at Dick's Sporting Goods, and refurbishing the Harding High School weight room, along with a $7,500 check for the high school.
The event kicked off at 2 pm and concluded at 6:30 pm with a surprise dinner.
This is the second annual Santa Cam's Surprise sleigh sponsored by GNC, Under Armour, and Dick's Sporting Goods.