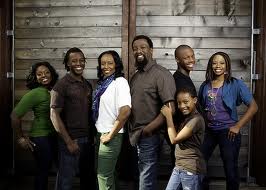 Bounce TV, the fastest growing African American network in television, will begin production on the network's first-ever original reality series which will center around the daily lives of the GRAMMY ®-nominated family gospel group foreverJONES, it was announced today by Billy Hall, EVP Programming and Production of Bounce TV.
Bounce TV has ordered an initial six episodes of foreverJONES with production beginning later this month in Shreveport, LA, the band's hometown. Bounce TV will debut foreverJONES this summer.
On the heels of Bounce TV's original holiday special "A foreverJONES Holiday," the new non-scripted series will delve deeper into the daily lives and challenges of this close-knit, faith-based family. Viewers will follow along as the seven family members balance personal dreams with their daily lives and the group's professional success and continued growth.
foreverJONES has won Stellar Awards, been nominated for a GRAMMY ® and is also up for three Dove Awards in April. The band is led by parents Dewitt and Kim Jones and includes their five children, D'Jeniele', Dominique, Dewitt IV, Judah and Mya. As musical artists, their mission is to continue the spirit of worship, the message of the Gospel and the essence of family through their artistry.