UPDATE: Cariol Horne, the former police officer has won a lawsuit giving her a pension 15 years after being fired by the Buffalo Police department for intervening in a situation where a white officer was using excessive force on an older black male suspect.
George Floyd's case was referenced in the lawsuit when discussing the need for other officers to intervene when excessive force is being used to detain or arrest a suspect. Horne is asking that a law be passed nationally as it now is in Buffalo.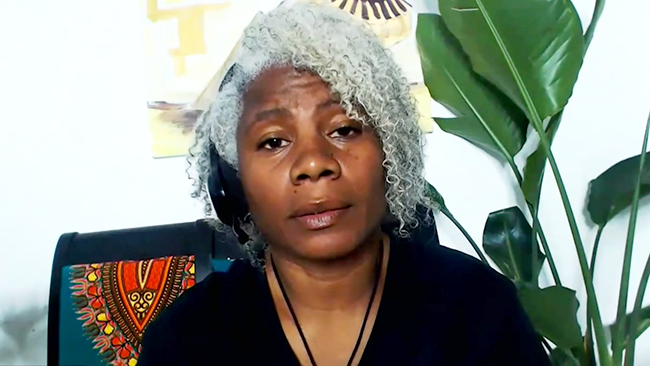 This story is so unfortunate. Former police officer Cariol Horne stopped a white Buffalo police officer from choking a black suspect and after he attacked her and punched her in the jaw, she was fired and denied her pension after 19 years on the job.
While this happened a few years ago, in light of the current situation in Buffalo with the old man being pushed down and cracking his skull, this story has resurfaced. Not sure what the end result was for her getting her pension but should she have ever even been fired?
The Story of Cariol Horne
Heroes are not always dressed in tight clothes and capes. There is no better way to describe Cariol Horne, a former police officer at Buffalo, New York. The lady intervened when a fellow white officer almost choked a black officer. The heroic act did not only get her fired, but she was also denied her pension.
The Chokehold Incident
Cariol Horne was not just any other public servant. Judging from her story, we can tell she was not only brave but also diligent. She did her best to sustain law and order and also to ensure justice is served. On November 1, 2006, before the videos, cell phones, and police officers wearing body cams, this postal worker signaled a patrol officer about an argument between a man and a woman on Walden Avenue.
On getting to know the story, the woman was accusing her ex-boyfriend, who happens to be our victim David Neal Mark of stealing her social security check of $626. The officers who responded to the call were Cariol Horne and Greg Kwiatkowski.
Neal Mark was violent during the arrest, which prompted the officers to use pepper spray, and it got to a point where the officers had to push him out of the house. Officer Horne testified that they were still struggling to arrest the driveway when she saw Officer Greg put Neal Mark in a chokehold.
This is where Horne came in and stopped Greg from choking the man. However, this did not author well with Greg, and according to witnesses, the two started fighting and throwing punches at each other in Mack's home driveway. According to the then police commissioner, "She was reportedly jumped on his back, and she got punched in the face."
Cariol Horne's Firing
At this time, Officer Horne was 38 years old, and her relationship with the police department was not running smoothly. She had previously been fired in 2000 after 12 years of service. Her disciplinary card shows that she was marked down as AWOL. She later came to explain that this was because her supervisor had recorded her absences inaccurately. In 2005 she was reinstated in her previous position following an arbitration hearing.
On the other hand, Greg Kwiatkowski was 42 years old at the time with 16 years of experience. He was also under scrutiny after he had been linked with brutality charges. In 1998 a federal court cleared him together with another Buffalo Police officer with brutality charges, and later on, he was involved in yet another police brutality case.
The suspect Neal Mark was acquitted, and all criminal charges against him dropped in June 2007. He filed a notice of claim against the city, stating that he was arrested unlawfully and also got injured in the arrest. Officer Kwiatkowski was absolved of all departmental charges following this incident. Officer Horne, on the other hand, still faced departmental charges on the same issue. However, she was on leave since she had a shoulder injury and migraine following the incident.
Gipson reviewed her case, and she was offered a four-day suspension which she refused. Officer Hornes insisted that she wanted her case to go to the hearing. By going to the hearing, she risked being fired but still went on with it.
Her hearing was scheduled in September 2007, and she insisted that it should be open to the public, unlike the norm where disciplinary hearings were heard behind closed doors. This time, Hornes had many supporters, and they believed she was being accused of crossing the "blue line."
The case was hearing was public. Mack gave his testimony. He accused officer Greg Kwiatkowski of having him in a chokehold and another officer using brass knuckles to subdue him. However, he credited Officer Horne for saving him. He said, "I couldn't breathe until she intervened." Officer Greg denied punching Mack in the face and insisted that Mak was too violent and that he only came to the scene to assist the other officers.
In May 2008, Cariol Horne was found guilty on 11 out of 13 internal charges. In summary, her charges were that she created a substantial danger to the lives of all those involved in the incident and depicted an extreme lack of professionalism. The hearing officer recommended that officer Horne be fired. She was fired, and because she had worked for 19 years, she could not qualify for a pension since it requires one to have worked for 20 years. 
Together with Mack, she sued again, and this time she was asking for 20 million dollars from the city. She continued to fight for her job and her justice.
In February 2011, Greg won a defamation suit against her, and she was ordered to pay $65000. She did not appear in court during this time, but she went back to seek justice during Mack's civil suit a year later. By this time, she was relying on child support and living in subsidized housing. She did not give up on her quest for justice despite the poor living standards.
Finally, luck was turning on her side, and in 2015, Mayor Byron Brown asked Attorney General Eric Schneiderman and the state Civil Service Pension System to look into Horne's case, and nothing came out of it. The Mayor offered her a job which she declined.
After the death of George Floyd, Horne hit the headlines. This time she was celebrated since she could not stop what the Officers on George Floyd's case could not. She appeared on CNN and CBS.  She had a GoFundMe campaign that raised over $160,000. She also proposed to create "Cariol's Law," which requires police officers to intervene when their colleges are using unnecessary force. 
BLACK REPORTERS WERE NOT READY FOR WHITE POLICE CHIEF, EDWARD FLYNN'S RESPONSE