LA-based hitmaker, pop songwriter and producer, BEVERLEE, shares her debut album, Purple Violin, today. The LP's three singles "6X," "White Piano" and "Logic Is Lost" act as a trilogy, with the latter giving fans a first look at BEVERLEE, as she shows up on-screen for the first time for this project. As someone who is typically heard but not seen, as the songwriter and not the performer, this moment is transformative and truly special for BEVERLEE. The video trilogy also nods to Alicia Silverstone / Liv Tyler and the idea of having "video leading lady" because Caroline Blaike is the lead in all three videos.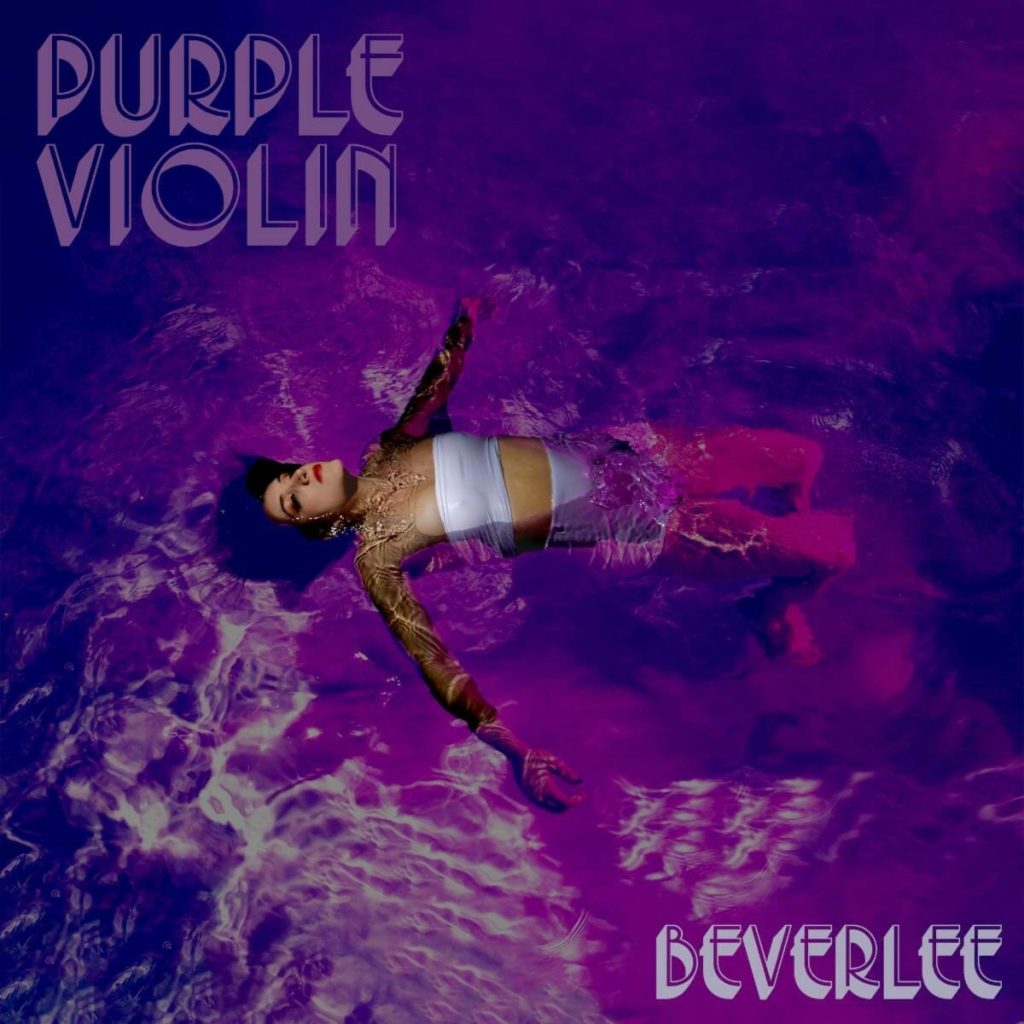 TRACKLISTING – Purple Violin LP
01. White Piano
02. 6X
03. Don't Wanna Leave New York
04. WIP (Work in Progress)
05. Creature of Habit 
06. Lorena
07. We Both Know
08. Amelia
09. I Missed Seeing the City10. Figment
11. I Missed Seeing the City
12. No Medal13. Purple Violin (Crooked)
Blaike is an ASL interpreter (Billie Eilish) and dancer (Jumbo's Clown Room). BEVERLEE is a queer woman, a person who is doing generational healing, and a soul who seeks resistance in the form of joy and sexual freedom — an opportunity her late cousin, Beverlee Jacobson, no longer has, as her life was stolen in the 1970s at the hand of her Hells Angels boyfriend. The impact murder has on a family is too complicated and painful for words and has caused much shame and trauma in her family, and BEVERLEE seeks to pay tribute with fierce love and unapologetic living.
The project is about unheard voices and is a celebration of queer, left-of-center pop. This release is a moment of BEVERLEE stepping into her power as a performer, songwriter and producer in the form of BEVERLEE, as well as a celebration of her rebirth as a gay woman in Los Angeles. Purple Violin is a celebration of unheard voices and is proudly queer, left-of-center pop. The subject matter is often either a woman who is stuck and seeking to desire something beyond her circumstances or someone coping in the aftermath of change, as any rebirth involves leaving a part of yourself or another person behind.
In "Lorena," a lonely woman relishes in the fantasy of a porn star; in "Amelia," a married woman dreams of escaping her grounded, comfortable life for the excitement of flying with the rumored queer Amelia Earhardt. The inspiration stems from Diamond's own experience of coming out in her marriage and rediscovering her identity and artistic community on the west coast. The production thrives on nostalgia, often weaving in 1940s-60s B-movie samples ("one thing I cannot stand is insincerity" on the anti-love song "We Both Know") to place the songs' emotions in a timeless setting. 

Formerly known as Abby Diamond, BEVERLEE produced most of the album, and her experience writing music for film/tv and commercials shows as many of the songs have what she describes as "cinematic but janky" orchestral meets pop production. She co-produced a few songs with Matt Mariano film composer who did Grey's Anatomy, Raising Hope and Bri Holland, vocal arranger for Trolls, Madagascar and numerous pop albums. She brought in friend Dean Reid, the mix engineer behind Lana Del Ray, for final finishing.
Chris Camilleri, a recording engineer and producer who has worked on albums and live shows for John Legend, Ms Mr and Sondre Lerche lent his engineering and additional production/drum programming talents on songs We Both Know and Purple Violin. Ryan Kattner, lead singer of Man Man and Honus Honus, lent his co-writing prowess to "Amelia." 

Mostly having been behind the scenes as a songwriter, Abby Diamond's music is constantly in the public sphere and enjoyed by millions, often having music in film/TV ads and even touring with major acts like Barenaked Ladies. In 2016, she wrote the hit dance song, "Places," by Xenia Ghali.
Recently, her work with Shea Diamond, a Black trans artist with whom Diamond wrote, "American Pie," picked up massive recognition as Joe Biden even danced with her to it at the White House. She also worked on the Son Little (Anti) record Aloha, co-writing the song "about her. again," which has had placements on various hit shows. She prides herself in working with queer artists and supporting other women, like BIIANCO, Janelle Kroll and vöx. Releasing her debut album right before Pride Month makes for a powerful entry into he music world as a performer.