Radio Facts: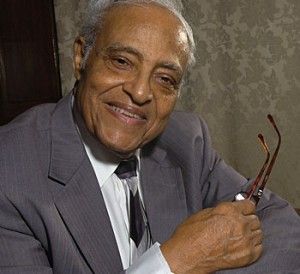 Memphis, Tenn. – Civil rights icon Dr. Benjamin Hooks died early Thursday morning at the age of 85. His health had been failing for some time, but a specific cause of death hasn't been announced. Hooks, a Memphis native, attended LeMoyne Owen College and later received his law degree from Chicago's DePaul University. He eventually became Tennessee's first African-American criminal court judge, but the law was never his first calling.
"I was blessed to be the first black public defender"¦the first criminal court judge in the south since reconstruction, the first FCC commissioner," Hooks said during a 2009 interview. "Of all the things I've done, preaching was above all." After 50 years in the pulpit, Hooks finally retired from Greater Middle Baptist Church last year. But it was Hooks' leadership in African-Americans' fight for equality that probably garnered him the most attention.He marched with Dr. Martin Luther King during the civil rights movement, fighting for equality between the races. I want the young people to know, this was a man who believed in non-violence as a way of life not just in the civil rights movement," he said about King.Hooks formed a special relationship with King, serving as his advisor during the Memphis sanitation workers' strike. Later, from 1977 to 1992, Hooks went on to lead the NAACP. But even as the head of the nation's most powerful civil rights organizations, Hooks said he didn't think he'd live to see an African-American elected to the Oval
Office
."I thought one day it would come to pass, but under God I never thought in my lifetime would I see it," Hooks said shortly before Barack Obama's inauguration. "Didn't appear to me that there was any way to beat Hillary Clinton"¦It's a miracle, but I'm proud and happy because he is able to meet the task."In 2007, Hooks was honored by President George W. Bush. Bush awarded the civil rights leader with one of the nation's highest civilian honors, the Presidential Medal of Freedom. Memphis Mayor A C Wharton issued the following statement on the passing of Dr. Hooks:
Memphis is saddened today by the loss of one of the great citizen-servants in our country's history, Reverend Dr. Benjamin L. Hooks. Our hearts and prayers are extended to his lovely wife Frances and the entire family during this difficult time.   Tragically, American ideals have often been alien to America's reality.In the same way that the Founding Fathers helped to shape the ideals for a new nation, Benjamin Hooks was among a rarefied class of Civil Rights leaders whose work in championing the cause of basic freedom and refining the very definition of opportunity transformed American life.There are few if any major civil rights advances over the last 50 years that do not carry his fingerprint, whether through direct participation or indirect influence. His calling as a ministry, his training as a lawyer, and his personal association with the plight of the oppressed worked to make Benjamin Hooks one of the most prolific and engaged fighters for the common man and woman we've seen in this century.Dr. Hooks' life was itself an unfolding story of how obstacles can not stand against the steady flow of determined progress. A World War II veteran, he broke barriers and blazed trails throughout his life including his time as a member of the Tennessee Criminal Court and as the first black Commissioner of the FCC.In his widely-regarded role as the Executive Director of the NAACP, Dr. Hooks inherited fledging membership and donor support, a challenge he meet squarely by setting a vision for the organization and rebuilding it to a position of strength and greater influence. In the most relevant way, Dr. Hooks helped to further cultivate and refine the NAACP's image as an organizational agent for change by keeping it on the forefront of the fight for equity and opportunity.Dr. Hooks was well aware of the need to continue the work in educating emerging generations of social advocates. Dr. Hooks' work in shaping and setting the vision of the Benjamin Hooks Institute for Social Change at the University of Memphis and his efforts as a longstand ing partner with the National Civil Rights Museum underscored his efforts in passing on the history and a sense of responsibility to young people.As much as Dr. Hooks and his legacy belonged to the world, Memphis will forever be grateful to say he was one of our very own. His joy was our joy; his successes emboldened us to dream. This internationally-regarded Civil Rights pioneer was our friend. We will miss him.Federal, state and city flags at City Hall have been lowered to half-mast in honor of Dr. Hooks.