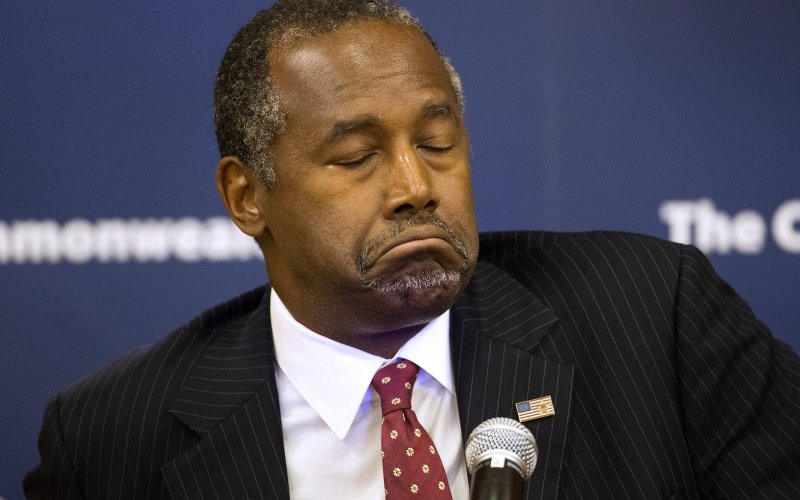 HUD Secretary Dr. Ben Carson clarifies his comments about slaves as immigrants:
AUDIO:
"Think about how our strength is our unity in this country and there are things that we have in common. Go to Ellis Island and look at all those pictures on the wall of immigrants who came here from every part of the world many of them carrying all their earthly belongings in their two hands not knowing what to expect and what a hard life they had but, they didn't do it for themselves. They did it for their children and their grandchildren. And then I said, there were other immigrants who came here in the bottom of slave ships who worked even harder, even longer but they too had a dream that one day their great grandchildren might live in freedom and prosperity in this country…
"Everybody in that auditorium was with me…Did they talk about the good things? Did they talk about the prolonged standing ovation? All the people waiting in line to get pictures? The people who asked very intelligent questions and got good answers?
The lady who stood up and said, 'Some of us were concerned, we're not concerned any more.' They don't cover that…It's really kind of sad what the media had deteriorated into."
Dr. Ben Carson: "…[Slaves] didn't just give up and die."
AUDIO: https://soundcloud.com/siriusxm-news-issues/dr-ben-carson-they-slaves-didnt-just-give-up-and-die
"…numerous people who were brought over here in slave ships and it is a horrible thing. I'm not saying it was not a horrible thing… what I am saying is that those people were strong they were strong-willed. They didn't just give up and die like many of the other people who they tried to enslave.
And one of the reasons that didn't give up and die was because they they used their brains that God gave them and they figured a time would come when there would be freedom. A time would come when their children could achieve so, unless you had the ability to maintain that hope and aspiration you just gave up and you died. Our ancestors did not do that."
That requires a tremendous amount of toughness and will power and hope and faith and they had that. Don't let anyone turn that into something bad…Slaves came here as involuntary immigrants but they still had the strength to hold on."
Content provided by SiriusXM.
The Armstrong Williams Show
airs weekdays at
6:00 pm ET
on SiriusXM Urban View channel 126.