Radio Facts: Radio Facts: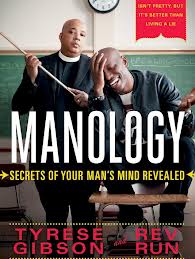 Tyrese Gibson and Rev Run host an intense Q&A at Barnes and Noble Union SQ in support of Manology
For more than a year, Tyrese Gibson and Rev Run have shared tweets to more than 8 million followers for what would become one of the most anticipated literary efforts of the year, Manology. They offer insights on how to weed out the cheaters, manipulators and pimps from the good men. Sometimes their truth isn't pretty and some men's behavior can't be changed, but it is better than uncertainty and living a lie. Tyrese and Rev Run believe that no matter how painful or distressing the bold truth might be, if you know it, you can confront it and move past it and finally find happiness in your relationships.
On Tuesday, February 5 th, the dynamic duo will offer up what they call an "uncensored look" into the male mind. Yes, scary! Their new book, Manology: Secrets of Your Man's Mind Revealed (Touchstone, out Feb. 5), explaining how women can build a healthy relationship by weeding out the "cheaters, manipulators and pimps" from the good men out there.
Tyrese and Rev are the unlikeliest of best friends. After an unexpected argument — Rev insisted that marriage is forever, Tyrese pushed that you could bail when the sex went bad — the two decided not just to agree to disagree, but to team up and open their debate to a larger audience. Even though they do not always agree and are at different points in their journey — Rev is married with six kids and Tyrese is a single dad still hesitant to settle down — both have clear advice on what it really takes to make a relationship work and what can sink it instantly.
Who:
Tyrese Gibson and Rev Run
What:
Reading and Q&A
When:
Tuesday February 5, 2013
Time:
7:00PM