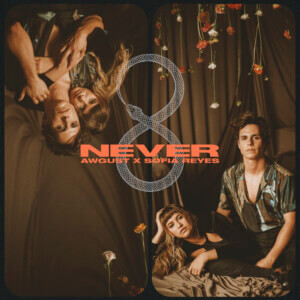 AWGUST RELEASES DEBUT SINGLE "NEVER" FEATURING SOFÍA REYES
Presenting a genre-busting sound, Awgust introduces himself with his debut single "Never" featuring Sofía Reyes today. New music arrives with support from Tommy Mottola, NEON16 and Republic Records.

The Philly-born, Texas-raised and Los Angeles-based singer, songwriter, and entertainer bounces between bilingual bars before a cheeky and catchy hook, "I never meant to fuck you…over." Meanwhile, multiplatinum Latin superstar Sofía delivers a showstopping cameo of her own. The track blurs the lines between pop and Latin and offers up a distinct and dynamic mood unlike anything else out there.

"The song is a goodbye, but it doesn't hold anything back." Awgust comments on the debut single, "With Sofía on it, there's an old school feel of the masculine and feminine voices colliding in a melancholically beautiful story. It has the melodic ear candy and prettiness, but it's raw."

"Never" paves the way for the arrival of Awgust's debut EP—coming very soon.

Informed by a diverse upbringing, unbelievable journey, tireless grind, and innate talent, Awgust infuses pop with an edge. Blunt and bold lyrics cruise over organic production as he integrates R&B attitude, Latin swagger, and arena-size ambition into a sizzling singular style. Born to Venezuelan parents, he spent his formative years in Texas. At 17-years-old, he left the Lone Star state to join pop phenomenon Midnight Red. Jimmy Iovine personally signed the group to Interscope as they recorded with mega-producer RedOne [Lady Gaga, Nicki Minaj, Jennifer Lopez] and canvased the globe and toured alongside Fifth Harmony, Selena Gomez, Backstreet Boys, New Kids on the Block, and more. Upon the group's dissolution, he became a sought-after presence as a songwriter in the studio. After crossing paths with Mith Media´s Paloma Hecht and Charlie Guerrero he began working with Sofía Reyes, co-writing the multiplatinum "R.I.P." [feat. Anitta & Rita Ora] and "Idiota." He soon attracted the attention and support of Tommy Mottola, NEON16 Founders, Lex Borrero and Tainy (#1 Latin Producer), and Republic Records. Everything pointed towards this moment: the introduction of Awgust. Get to know him now on the debut single "Never" [feat. Sofía Reyes] and more in 2020.