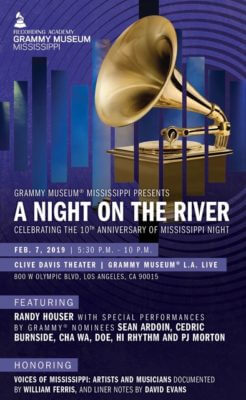 For the past 10 years, one of the true highlights of the week leading up to the GRAMMY Awards® has been a celebration of Mississippi's huge influence on American music.
The state has mounted a program that highlights the diversity and depth of its music, showcasing artists at the GRAMMY Museum® in Los Angeles. This year, in recognition of the event's 10-year milestone, GRAMMY Museum Mississippi (located in the Mississippi Delta city of Cleveland) is presenting an event at its sister institution in Los Angeles titled "A Night On The River." The evening's designation is a reflection of the fact that, for the first time, artists from Memphis and Louisiana are part of the festivities.
"A Night On The River," sponsored by a partnership of the Mississippi Development Authority (Birthplace of America's Music), Memphis Tourism (Home of Blues, Soul & Rock 'n' Roll), and the Louisiana Office of Tourism (Feed Your Soul) is set to roll the evening of Thursday, Feb. 7, starting at 5:30 p.m. Musical performances by Randy Houser, Sean Ardoin, Cedric Burnside, Cha Wa, DOE, Hi Rhythm Section, PJ Morton and The Delta Music Institute All Stars assure a rousing and inspiring evening of entertainment. The evening is hosted by Ward Emling who served as director of the Mississippi Film Office, where he guided in-state productions for more than 200 television, feature, and documentary productions before his recent retirement. Other speakers will include Louisiana Assistant Secretary of Tourism Doug Bourgeois and Kevin Kane, who serves as president and CEO of Memphis Tourism.
In advance of these musical performances, Dr. William Ferris, the former chairman of the National Endowment for the Humanities, audio recordist, filmmaker, folklorist and teacher, will be honored for his life's work and the 2018 GRAMMY®-nominated (Best Historical Album) Voices Of Mississippi: Artists And Musicians Documented By William Ferris. The multimedia set is a scholarly assembly of southern folklore and music released last year by the archive label Dust to Digital.
David Evans wrote the liner notes for the package and is, likewise, GRAMMY-nominated for his efforts (Best Album Notes). He heads the doctorate program in Ethnomusicology at the University of Memphis. Dr. Evans was awarded a GRAMMY for 2002 for his notes to Screaming And Hollerin' The Blues: The Worlds Of Charley Patton.
Randy Houser was born in Lake, Mississippi (population 408) and moved to Nashville to pursue a career in songwriting where he wrote Trace Adkins' breakthrough hit "Honky Tonk Badonkadonk." After that success he focused on his own recording career and went on to release five best-selling country albums, the most recent being Magnolia, the title of which is a reflection of his fealty to his home state. Over the course of his still-evolving career, he's scored four No. 1  country singles and a CMA Song of the Year nomination ("Like A Cowboy"). The New York Times described his performance as "truly rousing, delivering soft sentiment with a gut punch."
Sean Ardoin's latest album release, Kreole Rock And Soul, is GRAMMY-nominated in the Best Regional Roots Music Album category and "Kick Rocks," one of its tracks, has been nominated for Best American Roots Performance.  He was born in Lake Charles, Louisiana, to a family that truly shaped zydeco music since its inception. His grandfather was the legendary Alphonse "Bois Sec" Ardoin, who created the template for zydeco in the 20 century. Bois Sec's son and Sean's dad is zydeco drummer/accordionist Lawrence "Black" Ardoin and his brother is Chris Ardoin with whom Sean collaborated in the much lauded zydeco ensemble Double Clutchin'.
Cedric Burnside's current album, Benton County Relic, is GRAMMY-nominated (Best Traditional Blues Album); his 2015 release, Descendants Of Hill Country, was similarly nominated. Like Sean Ardoin, Burnside, born in Memphis and raised in Holly Springs, Mississippi, is the scion of a family that has been tremendously influential. His grandfather was the legendary R.L. Burnside, who shed light on North Mississippi's idiosyncratic hill country blues. While he shines on guitar, Cedric Burnside's talent is multifaceted, having been named Drummer of the Year for four years running by the Blues Foundation.
Cha Wa embodies the spirit of New Orleans' Mardi Gras Indians as the Wild Tchoupitoulas and the Wild Magnolias did in their time. Their 2018 release Spyboy is GRAMMY-nominated for Best Regional Roots Music Album and offers a deep dive into the sound of New Orleans culture with a modern twist, and feathers.
DOE, aka Dominique Jones, wrote her first GRAMMY- and GMA Dove-nominated song "He Wants It All" (Best Gospel Performance) for her parents' and siblings' group Forever Jones while still a high school senior in Shreveport, Louisiana. The group also received a GRAMMY nomination in the Best Contemporary R&B Gospel Album category. This year, DOE's "Cycles" is nominated for Best Gospel Performance/Song, a collaboration with Jonathan McReynolds and Will Reagan.
Hi Rhythm Section traces its roots to the legendary Memphis label Hi Records where they backed artists like Al Green, Otis Clay, Don Bryant, Boz Scaggs, Keith Richards, and many others. Their brand of soul-infused funk became the signature sound of the city. They were recipients of a 2017 GRAMMY nomination (Best Contemporary Blues Album) for Robert Cray & Hi Rhythm.
It can truly be said that PJ Morton is one of contemporary music's renaissance men. His tenure as Maroon 5's keyboardist is just one aspect of a musical career that is a phenomenon unto itself. He is nominated for four GRAMMYs this year: Best R&B Album for Gumbo Unplugged (Live), Best Traditional R&B Performance for "How Deep Is Your Love" (featuring Yebba), Best R&B Performance for "First Began," and Best Pop Duo/Group Performance with Maroon 5 and Cardi B for "Girls Like You." To date, he's been on the receiving end of 10 GRAMMY nominations. OffBeat Magazine crowned him "the undisputed prince of contemporary New Orleans soul music."
Also part of "A Night On The River" are the DMI All Stars, a select group of musicians from the Delta Music Institute Entertainment Industry Studies program at Delta State University in Cleveland, Mississippi. The group consists of eight student musicians and four student production crewmembers. Their repertoire is focused on the role Mississippi music has played in American cultural life.
More Information about GRAMMY Museum® Mississippi: www.grammymuseumms.org