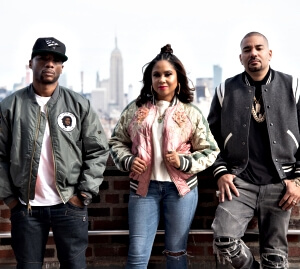 Univision San Antonio's KBBT-FM The Beat 98.5, part of the Uforia Audio Network, will host its first annual Block Party concert event this weekend. Sponsored by Rock's Discount Vitamins-N-More, The Beat Block Party will be hosted by The Breakfast Club Radio Show's very own Charlamagne Tha God, DJ Envy and Angela Yee in Downtown San Antonio on June 8th.
The Block Party will feature performances by Yo Gotti, San Antonio native Ally Brooke of Fifth Harmony, Luniz, Flipp Dinero and Yella Beezy as well as additional surprise artists throughout the event.
The Breakfast Club Radio Show, which currently airs on The Beat 98.5 Monday through Friday from 5:30 a.m. to 10:00 a.m. CDT. and is the most-listened-to Urban Contemporary morning show in America, will broadcast their morning show live from Univision San Antonio's studios on Friday, June 7th.
WHEN: June 8th, 2019
WHERE: St. Paul Square, Downtown San Antonio, TX 78249
ADDITIONAL INFORMATION: Tickets for The Block Party can be purchased atBlockPartySA.com. For details about The Breakfast Club Radio Show and its hosts, go tohttps://thebreakfastclub.iheart.com/featured/breakfast-club/. For additional information about Univision San Antonio "The Beat 98.5," please visithttps://www.univision.com/san-antonio/kbbt.