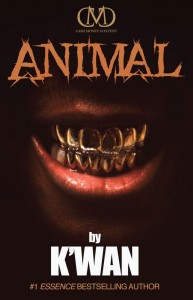 On October 2, 2012 Cash Money Content, the book publishing arm of the iconic record label Cash Money Records, home to multi-platinum artists Nicki Minaj, Lil Wayne and Drake, will release the street novel, ANIMAL from the 2008 Black Press "Author of the Year" K'wan Foye.
A complex and bloody tale from one of this generation's most talented and gritty writers, the story follows Animal, the infamous fugitive from K'wan's well"'known Hood Rat Series, on a tragic trail of revenge. The novel takes the reader through the rugged streets of Puerto Rico to the scene of the original crime, Harlem , NY , following the footsteps of a ruthless murderer.
Animal survived both unfathomable abuse from his family and the unforgiving streets, but stilled learned to love. Infamous for turning at any moment into a cold-blooded killer, Animal is the product of the world we all live in. There but for the grace of God go . . . any of us.
When pushed to the limit" is there an ANIMAL is all of us? Is there something that could push you to the breaking point of murder? Are you absolutely sure there isn't? ANIMAL, the first novel from K'wan to follow, Animal, his fan's favorite character, is in stores October 2nd, and is a highly anticipated release.
ANIMAL marks K'wan's first release with Cash Money Content. K'wan's previous novels include the bestsellers Welfare Wifeys, Section 8, Gutter, Still Hood, Hood Rat, Eve, Hoodlum and Street Dreams, all released by St. Martin's Press.K'wan has sold a cumulative 500,000 copies since penning his first novel.
Praise for K'wan"Animal is a masterpiece" "" Ronald "Slim" Williams, Co-CEO Cash Money Records/Cash Money Content"You don't get more hood than K'wan" "" Bryan "Birdman" Williams, Co-CEO Cash MoneyRecords/Cash Money Content"¦the characters become so alive that watching them spin toward their inevitable endsis heartbreaking."
– Entertainment Weekly on "Street Dreams""The big draw here is the electric prose, which is imbued with profane, comic lyricism."- Publishers Weekly on "Hood Rat""K'wan has risen from "just another street lit author" to a writer who produces thrilling plots, and his descriptive prose holds its own against many top-selling authors.
"- Library Journal on "Eviction Notice"The CMC Young Author's Tour featuring K'wan will visit the following cities: Friday, September 28 – The Dock Bookshop "" Ft. Worth , TX , 7pm "" 9pm6637 Meadowbrook Dr. Fort Worth , TX 76112Saturday, September 29 – DFW SoulFest – Fort Worth, TX , 11am "
" 2pmCobb Park , 3600 Cobb Park Drive W in Fort Worth , TX . 76104Tuesday, October 2 – CMC Brooklyn Booksigning Event! – Sheraton Brooklyn NY228 Duffield Street Bklyn NY7:00 PM – 9:00 PM – Tickets $20 (limited tickets)https://cashmoneybooks-efbevent.eventbrite.com/Friday, October 5 – Books-A-Million "" Philadelphia, PA , 1pm "
" 3pmBooks-A-Million Store 764 Gallery at Market East,901 E. Market Street Ste 1285, Philadelphia , PA 19107, (215) 923-1912Friday October 5 – Black & Noble "" Philadelphia, 4pm "" 7pm1409 West Erie Avenue Philadelphia , PA 19140Saturday, October 6 – Cartel Books, Oxon Hill , MD , 3pm "" 6pm5011 Indian Head Highway Oxon Hill , MD 20745 (240) 724-7225Wednesday,
October 10 – B&N College University Bookstore Event, Jersey City , NJNew Jersey City University Bookstore, 2pm "" 5pm2039 Kennedy Blvd Jersey City, NJ 07305 Store telephone: (201) 435-6607Friday, October 12 – Books-A-Million "" Chicago, IL, 12pm "" 1pm n(Lunchtime signing)Books-A-Million Store 243 Chicago, LaSalle144 South Clark Street, Chicago IL 60603 (312) 857-0613Saturday, October 13 – Da Book-Joint "
" Chicago , IL , 6pm "" 8pm2311 E. 71st St., Chicago , IL 60617, (773) 655-3146.Thursday, Oct. 18 – Wayne State University "" Detroit , MI 12pm 4pmBarnes & Noble Campus Bookstore Saturday, October 20 – Hood Book, Detroit, MIHood Book Headquarters, 20900 Dequindre Rd. Warren , MI. 48091, (313) 515-7961Saturday, Oct. 27 – OOSA Book Club Pajama Jam, St. Louis , MO , 6pm "" 11 PMEmbassy Suites "" St. Louis AirportTuesday,
October 30 "" Howard University "" Washington , DC 4pm "" 6pmHoward University BookstoreIn 2011, K'wan won the prestigious African American Literary Award for "Best Street Novel" with his release of Welfare Wifeys. He is nominated this year in the "Street Fiction" category for Eviction Notice: A Hood Rat Novel.
In 2008, he won Black Press' Author of the Year. Through strategic street marketing and independent author campaigns, K'WAN, a New York native, has been unmatched in promoting his novels. He has built a strong hardcore fan base in the New York Tri"'state area that captures both male and female readers alike.
K'wan has been featured in Vibe, Pages, King, Felon, Big News, The Library Journal, Entertainment Weekly, The New York Press, Clutch and most notably Time Magazine, https://www.time.com /time/magazine/article/0,9171,1543951,00.html. He was also interviewed by MTV News for a feature on Hip"'Hop fiction, NY's Power 105 and NPR.
More about ANIMAL "One bullet changed everything." Three years after narrowly escaping a one way trip to the gas chamber, the fugitive known only as Animal finds himself drawn back to the scene of the crime, Harlem , NY . Throughout his entire time in exile the only thing that kept Animal going was the thought that he would one day be reunited with his soul mate, Gucci.
But one bullet changed everything. When his enemies tried to murder Gucci they crossed the line, so he vowed to cross them all.While Gucci teeters between life and death Animal sets out on a bloody mission fueled by love and orchestrated by bullets…there would be no more innocents.
Alliances are formed and secrets uncovered while Animal wages his personal war on the streets of Harlem only to discover one great truth….he is but a small piece in a much greater puzzle.
For more info log onto www.kwanfoye.com. Follow K'wan on twitter @K'Wan141 or @We_R_TeamAnimal and also find him at facebook.com/We Are #TeamAnimal.CMC Young Author's Draft Competition Attention all College Students! Ready your manuscript!
Cash Money Content books' Young Author's Draft is looking for today's hottest young Black lit author. With The Young Author's Draft, judges and CMC co-author's Ashley & JaQuavis will crown the newest and hottest Cash Money Content Black fiction author and hand them an eBook deal with Cash Money Content as well as a new iPad!
The contest is open to current students at accredited colleges, universities or trade schools only. Log onto facebook.com/cashmoneycontent for further details. The deadline has been extended to November 30, 2012.